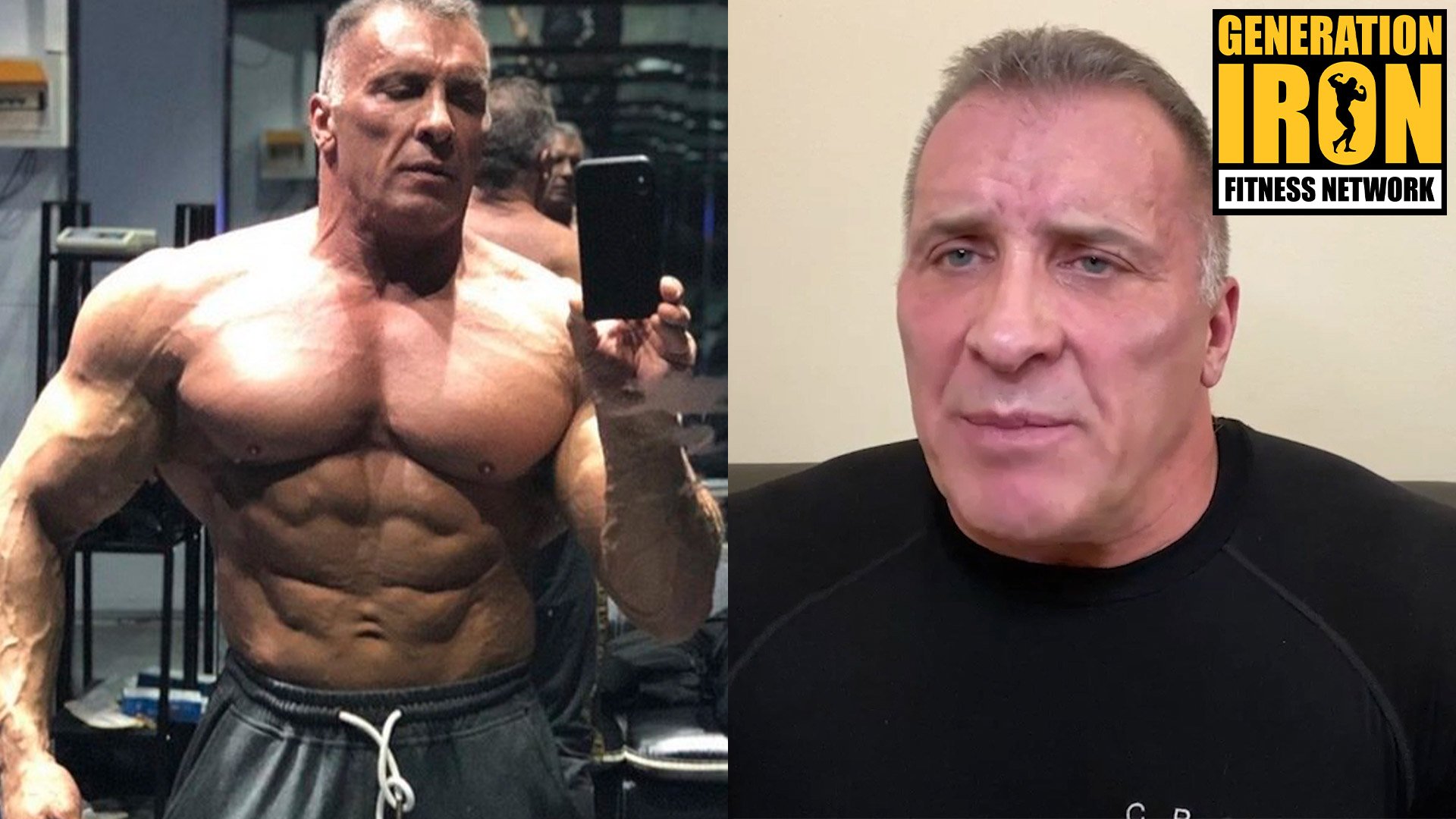 Watch the full uncut GI Exclusive interview with Milos Sarcev.
Milos Sarcev is a former competitive bodybuilder turned coach who has had significant sway in the industry over the past few decades. He has been open about steroid use in the sport (even calling it healthy). He was also the first big proponent of insulin use in bodybuilding. This arguably was responsible for a massive shift in the sport – making the drug more commonly used in the industry.
That's why we connected with Milos Sarcev for a long form interview to discuss in-depth all things bodybuilding including his controversial views on steroids, insulin, and synthol. Typical to Milos, he holds nothing back and gives his full in-depth opinion.
Over the past few months we've released multiple GI Exclusive segments from our interview with Milos Sarcev. Now we're releasing the full length interview including topics such as whether or not steroids are healthy, the proper use of insulin in bodybuilding, and the moment he almost died from using synthol.
---
Listen To Our Milos Sarcev Interview On The Generation Iron Podcast
Our full length interviews are now also in podcast form! Subscribe to the Generation Iron Podcast for candid, full length interviews with the biggest names in bodybuilding, fitness, combat, and strength sports.
Listen to the full Milos Sarcev interview here:
---
Milos Sarcev: "Steroids Are Healthy For Bodybuilders"
When asked about the health of bodybuilders and their ability to recover from illness – Milos Sarcev jumped straight into the conversation about steroid use. He explains that steroids are used, when prescribed, for an amazing amount of things that help people become more healthy. Help them recover after major accidents. Help them maintain testosterone levels when they drop as they get older. They are used to help fight certain infections and illnesses. So Milos argues – why are steroids being called unhealthy when used for sports?
Milos goes on to argue that the side effects listed for a wide variety of other drugs available at pharmacies match if not exceed the kind of risks steroids might bring. But for some reason steroids are villainized. Athletes who use them are seen as druggies or dope fiends. Milos Sarcev finds this reputation unfounded. He thinks that bodybuilders and athletes who use steroids are likely healthier than most people.
Of course, Milos does concede that overuse can be dangerous. But this is true of any drug. It can be true of headache medication you get over the counter. And that's part of the problem. By regulating and banning steroid use in sports – it makes information harder to find. It makes young athletes use these PEDs incorrectly and risk their health. If it was allowed for open use – athletes would be even healthier. There would be no increase in deaths or serious health issues.
Check out the full uncut GI Exclusive with Milos Sarcev above!
Insulin Isn't Dangerous, Uninformed People Are Dangerous
Milos Sarcev claims to be the man who brought insulin into the sport of bodybuilding. And he still stands by its use today. He believes it is a vital part of evolving the sport and allowing athletes to push the bar to the next level. In regards to health, he thinks the drug isn't dangerous so long as the person using it is informed and educated about its use.
We've interviewed other coaches and gurus who disagree with Milos' sentiments. In our previous conversation with George Farah – he admits that he regrets jumping on the insulin bandwagon when it was first introduced. Now looking back, Farah believes that insulin shouldn't be used at all by bodybuilders.
Of course, it must be made clear that the way insulin is being used by bodybuilders is not how it was intended to be utilized. Insulin as a drug has very specific uses that can be prescribed by a doctor. Becoming a mass monster bodybuilder is not one of them.
Milos Sarcev couldn't care less about what doctors believe. Milos used insulin throughout majority of his competitive career. He's suggested it to many athletes as well. He understands that doctors must lean on the safe side when condoning or endorsing drugs for casual use. But Milos believes the reality is that it makes perfect scientific sense for a bodybuilder to use the drug. But like with any drug, it must be used correctly.
Wrap Up
Our conversation with Milos Sarcev covered far more topics than could be discussed in this article. We also discuss the dangers of diuretics, his near death experience with synthol, and the topic of bodybuilding gurus. You can watch the full uncut GI Exclusive interview with Milos above!