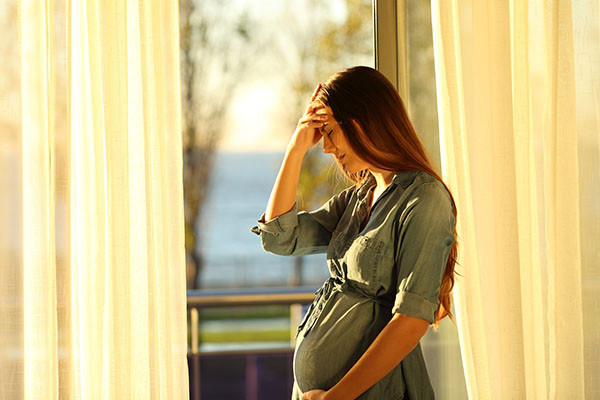 Pregnancy is an exciting time. You will soon become a parent to an adorable, tiny human. You may expect to experience the rollercoaster of emotions during pregnancy, or emotions may catch you off guard. Some women feel joy at every flutter or kick, marveling at their changing bodies. For other women, pregnancy is hard, giving no reprieve as it brings severe fatigue, mood changes, and constant worries. You may notice that with every passing month, your thoughts are spiraling out of control, affecting your performance at work and your relationships at home. But how do you manage your anxiety, and should you treat it?
What causes anxiety during pregnancy?
Worries during pregnancy are universal. Hormonal changes of pregnancy, prior heartbreaking miscarriages, and sleep difficulties may all contribute to anxiety for mothers-to-be. You may worry about how a baby will affect your relationships with friends or family members, the health of your future child, the delivery experience, or the financial burden of an additional family member. All of these worries are completely normal. For humans, a certain amount of anxiety is protective; how else could we motivate ourselves to complete our work or run away from a bear?
What are the symptoms of anxiety disorders during pregnancy?
Although it's normal to be worried about the health of your baby, in some cases this worry becomes debilitating and may require further attention. Thoughts about the health of the baby may become obsessive, even when doctors are reassuring. Worries may also appear as physical symptoms, such as a rapid heartbeat, difficulty breathing, or panic attacks. If this is the first time you experience a high level of anxiety, this may be frightening in itself. When anxiety starts to interfere with your day-to-day functioning, relationships, or job performance, it may be classified as an anxiety disorder — if your doctor picks up on it.
Anxiety can occur at any time during pregnancy, or it may first appear after delivery (perinatal anxiety is the term used for anxiety during pregnancy and after delivery). The rates of generalized anxiety disorder appear to be highest in the first trimester, likely due to hormonal changes. The most common symptoms of anxiety include constant worrying, restlessness, muscle tension, irritability, feeling dread, an inability to concentrate, and difficulties falling asleep due to worries. Some women also experience symptoms as a result of other anxiety disorders, including panic disorder, obsessive-compulsive disorder, or post-traumatic stress disorder.
Unfortunately, two of the most common mental health screening tools in pregnancy (the Edinburgh Postnatal Depression Screen and Generalized Anxiety Disorder 7-item Scale) are not great at detecting anxiety in pregnancy. Although underdiagnosed, anxiety disorders during pregnancy and in the postpartum period are common, and may affect up to one in five women. Many women suffer in silence.
What are the effects of untreated anxiety on the fetus?
When thinking about management of anxiety, it is important to consider both the risks of treatment as well as the harms of untreated anxiety. Although less studied than depression, research suggests that anxiety may negatively affect both the mother and the fetus. Anxiety increases the risk for preterm birth, low birthweight, earlier gestational age, and a smaller head circumference (which is related to brain size).
What are some treatments for anxiety during pregnancy?
Fortunately, there are many treatments that can reduce anxiety during pregnancy and help you feel better. For many women, anti-anxiety medication is not an option during pregnancy, as there is little information on the safety of such medication on the fetus. Some women who had previously taken medications for anxiety may wish to discontinue medications during pregnancy for personal reasons.
Therapies such as cognitive behavior therapy (CBT) demonstrate promise in the peripartum period (the period shortly before, during, and after giving birth). CBT focuses on challenging maladaptive thoughts, emotions, and actions, and it uses anxiety management strategies such as diaphragmatic breathing (adapted to pregnancy).
If your anxiety is severe, medications may be an option for you. Selective serotonin reuptake inhibitors (SSRIs) are commonly prescribed for depression and anxiety during pregnancy and after delivery. It does not appear that SSRIs are associated with an increased risk of major congenital malformations. However, SSRIs may be associated with transient neonatal symptoms such as jitteriness, tremor, crying, and trouble feeding, which resolve on their own in a few days.
The use of benzodiazepines such as lorazepam (Ativan) and alprazolam (Xanax) during pregnancy has long been a controversial topic. Although older studies showed an association between their use and an increased risk for cleft lip and palate, a more recent study looking at benzodiazepine use during pregnancy did not show this link when these medications were used alone (although there may be an increased risk when combined with antidepressants).
What else helps anxiety during pregnancy?
Engage in regular physical activity. In general, it is safe to engage in physical activity during pregnancy. However, if you are at risk for preterm labor or have pregnancy complications, consult with your doctor first.
Ensure adequate sleep. Whether it's a calming bedtime routine, pregnancy pillow, or a few nights in a bed away from your snoring partner, now is the time to learn what works for your sleep.
Practice mindfulness.Research shows that mindfulness may reduce worries about labor, and it may even prevent postpartum depression.
Journaling. Writing about your worries may help you brainstorm potential solutions, and it allows you to reflect on your concerns.
Schedule worry time. We often worry because we do not want to forget something. Setting aside 30 minutes toward the end of the day provides you with a time to worry productively, but it frees you from holding onto your worries the rest of the day (practice reminding yourself "I'll get to these thoughts later").
Yoga, massage, meditation, and acupuncture. Finding relaxation techniques that work for you may take some experimentation — but their benefits will continue even after the baby arrives.
As a service to our readers, Harvard Health Publishing provides access to our library of archived content. Please note the date of last review or update on all articles. No content on this site, regardless of date, should ever be used as a substitute for direct medical advice from your doctor or other qualified clinician.