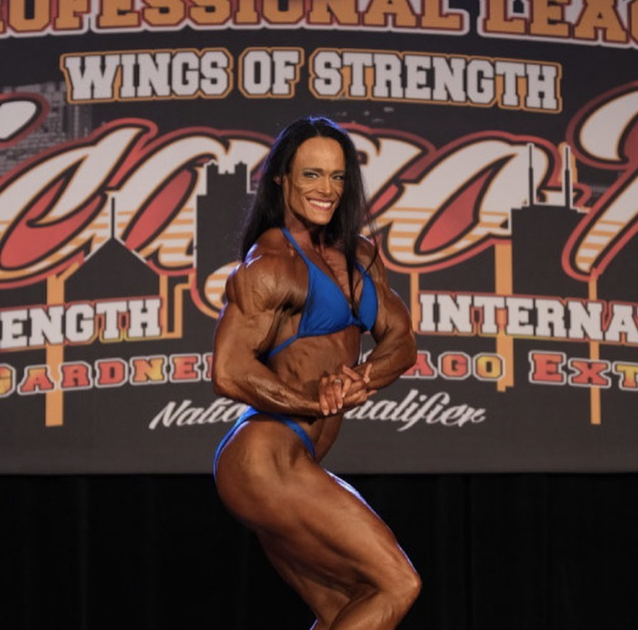 LOUISVILLE, Ky. (WDRB) — A Louisville bodybuilder is just months away from potentially achieving her goal of competing on the biggest stage for bodybuilders in the world.
Donna Salib is a professional bodybuilder based out of Louisville.
At 46, she's looking to compete among the top bodybuilders in the world for the Ms. Olympia title in October.
"You are on the stage with the world's absolute best. Women's bodybuilding, it's been thriving, but now, longevity is there," said Salib.
Before returning last year under new ownership with Wings of Strength, the women's competition was removed in 2014, causing people like Salib to question what the next step in their career would be.
"It means a lot because in 2014, you've got all of these women who have worked their whole entire lives to get to that point to just have the carpet pulled out from underneath you," said Salib. "Where do you go? What do we do with our lives?"
In the men's competition, Arnold Schwarzenegger became the youngest ever to win Mr. Olympia at 23 years old in 1970.
"It's exciting to see something I've been dreaming about since 2006, it's right there," said Salib.
Salib participated in her first competition in 2007.
She said when she first stepped on stage, she was scared to take the next step in this new adventure, because she had been working to overcome an eating disorder.
"With the bulimia, I was fixated on being just like the skinniest person because what was portrayed to me as beautiful was skinny," said Salib.
Salib said she reached out to a friend who owned a gym and began working with a nutritionist to learn to have a healthy relationship with food.
"Looking at magazines and seeing people like Rachel McClish, Cory Everson, I was like oh my gosh these women are so beautiful but they have these beautiful muscles," said Salib. "It just inspired me to become a healthier person and do it the right way.
After entering a few competitions for powerlifting, Salib eventually set her sights on becoming an internationally recognized bodybuilder.
Powerlifting as a sport primarily focuses on lifting the heaviest weights possible in lifts such as the deadlift, squat and bench press, while bodybuilding focuses on building muscle and losing fat to extreme levels.
As her new goals continue to take form, Salib says she is proud to see how far she has come.
"I love the feeling because I know where I started and where I want to go," said Salib.
Salib says she's lost count of all the competitions, but regularly travels around the country for shows.
No matter where she is, Salib says she keeps her father, brother and son in mind as she competes to help veterans like them.
"My dad's a Marine, my son was in the Army, my brother is a master sergeant in the Air Force," said Salib.
Money the bodybuilder wins from competitions helps support Active Heroes in Shepherdsville.
The charity provides support for veterans and their families with the mission of reducing veteran suicide.
"For pre-judging, I just usually use a plain colored suit. But the finals, every one of my suits, maybe with the exception of one, has been red white and blue themed because that's where the heart is. That's who I do stuff for," said Salib said.
As gyms were closed throughout the pandemic, Salib turned to social media to post workouts and share her love of health and fitness to guide others.
"If I better myself each day then that means I might be able to help someone else do the same," said Salib. "When I look back at where I started and how I felt about myself and then where I'm at now, the person I've become, not only physically but mentally spiritually, I'm excited because the sky is the limit."
Salib says she plans to celebrate her birthday next week the best way she knows how, on stage, in Atlanta, in a competition to qualify for Ms. Olympia.
To follow along with Salib's journey on Instagram, click here.
Copyright 2021 by WDRB Media. All rights reserved.