"Indonesian icons" is a series offering in-depth explorations of figures, elements and events that have defined the country, from noteworthy people and culinary delights to historic locales and unforgettable moments.
More than two decades after his retirement from professional competition, Ade Rai remains the only Indonesian bodybuilder to have crossed over to mainstream celebrity. Known for his signature friendly smile and model-worthy looks, Ade is still busy promoting healthy lifestyles, including as a guest speaker at events and through appearances in various advertisements.
Ade is the second of four children from father I Gusti Agung Rai Widjaja and mother Selena Susanti. He was born in Jakarta on May 6, 1970, as I Gusti Agung Rai Kusuma Yudha.
At age 9, Ade was set on becoming a badminton player. Like many Indonesians, he had seen the glory the sport had brought to the country – especially at the Olympics – and wanted to be part of it.
After struggling as a junior shuttler, even after years of practice, Ade eventually switched to bodybuilding.
Ade told The Jakarta Post that he had never thought about how his life would have been if he had stuck with badminton.
"I failed at badminton," he said matter-of-factly. "If I could have been a champion, I would have probably stayed."
Ade said he was grateful that fate had steered him toward bodybuilding.
"Bodybuilding has given me only good things – nothing else," he said.
Arm wrestling past
Ade didn't choose bodybuilding at random. In his senior high school years, his friends would hold friendly arm wrestling competitions. This inspired him to work on his muscles, to get a competitive edge. An acquaintance who was a trainer told him that he had what it would take to be a professional bodybuilder.
Ade Rai won his first national bodybuilding championship in 1994 at the age of 24. It didn't come easily.
As a teenager, 183-cm-tall Ade Rai weighed only 55 kilograms. He slowly built his figure through dedication. Vowing never to use steroids or other performance-enhancing drugs, Ade Rai taught himself to be a natural bodybuilder. He studied the right ways to eat, sleep and train for the sport.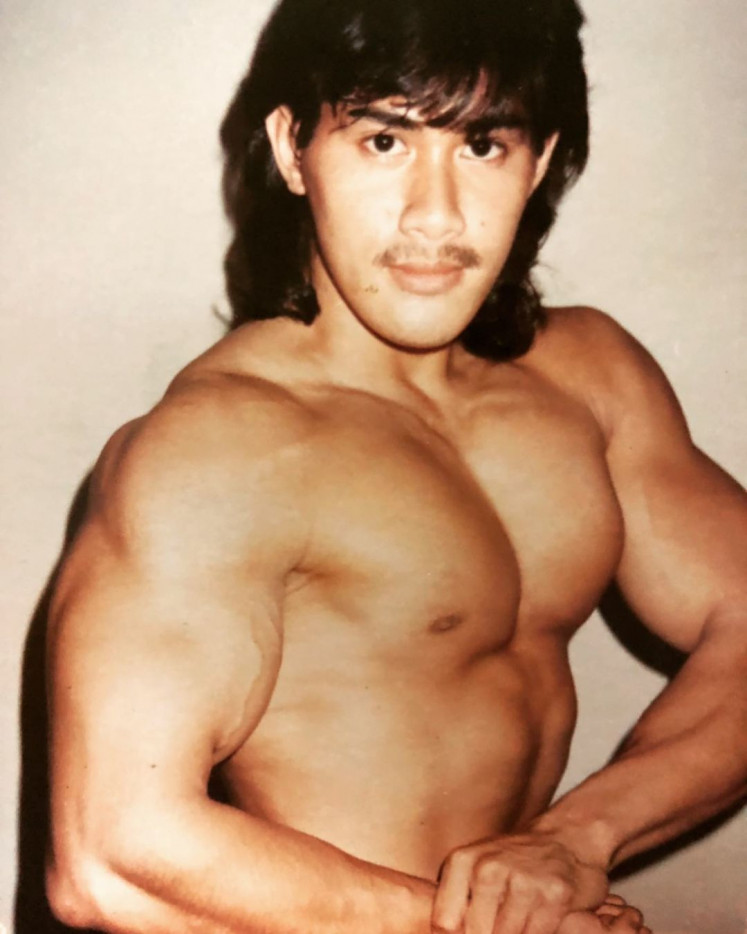 Starting strong: Ade Rai won his first national bodybuilding championship in 1984 at the age of 24. (Instagram/Courtesy of Ade Rai Instagram)
His victories began to amass. In 1995, he won Hong Kong's Mr. Asia bodybuilding competition – his first international title. He also won Musclemania World USA in 1996, one of the world's most prestigious drug-free bodybuilding competitions at the time. Winning the gold medal for Indonesia at the 1997 Southeast Asian Games in Jakarta was another memorable achievement.
In 2000, his last year as a professional athlete, Ade Rai won Superbody World Championship USA as well as a second Musclemania World title.
Healthy lifestyle advocate
Ade's anti-drug stance is a central part of his image.
"[Normalizing performance-enhancing drugs] is like saying that it's okay for a top politician to indulge in corruption. No matter who you are, corruption is a big no," he said.
He said anyone who used shortcuts to sculpt their body had forgotten the meaning of the sport and that the consequences of abusing drugs were simply not worth it.
Ade estimated that 90 percent of bodybuilders in Indonesia, both amateur and professional, used performance-enhancing drugs.
"I don't care whether someone is a professional bodybuilder or not. It's not wise to compromise our futures just because we want better bodies," he said.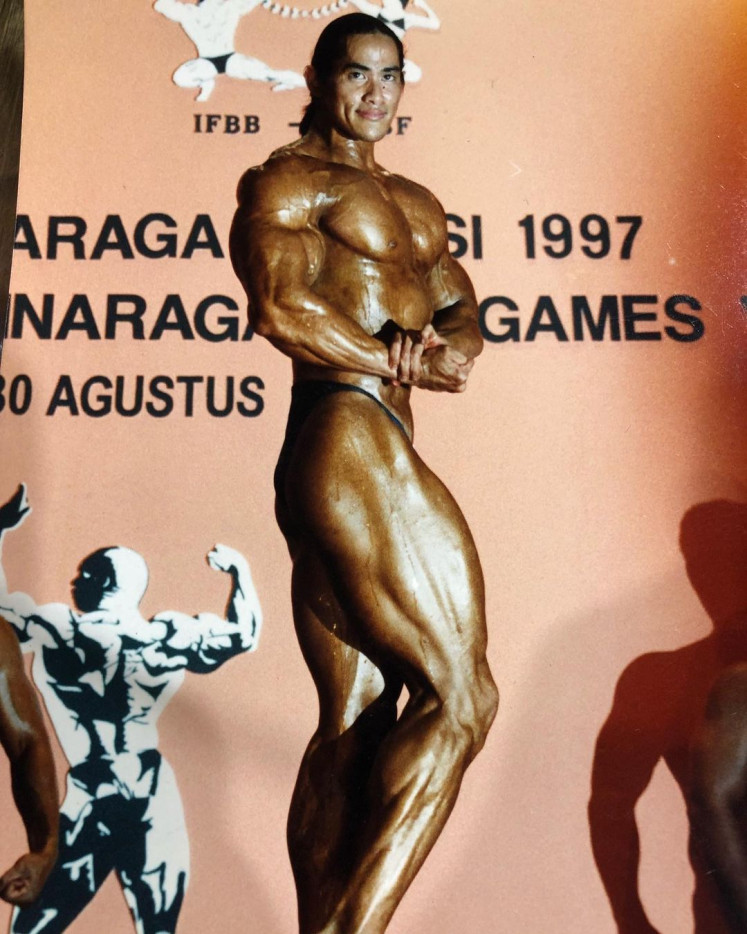 Champion: Ade Rai won a gold medal representing Indonesia at the 1997 Southeast Asian Games in Jakarta. (Instagram/Courtesy of Ade Rai Instagram)
Branching out
Following his retirement from professional bodybuilding, Ade established Rai Fitness, a fitness center brand that includes a health food restaurant. In 2006, he established the RAI Institute, which focuses on training fitness professionals for certification.
"One of my aspirations is to educate people about healthy lifestyles," he said.
For a time in 2012, Ade was a columnist for The Jakarta Post. He answered readers' questions about health, training and nutrition.
In 2020, he attracted public attention by helping 13-year-old Arya Permana lose 110 kg in three years by supervising his training. Arya, once dubbed Indonesia's fattest kid, weighed 193 kg at one point. He lost the weight after dieting, engaging in strict training regimens and undergoing medical procedures and plastic surgery.
Ade reached out to Arya's family in 2016 out of concern for the teenager's situation. The bodybuilder regularly uploaded pictures and videos of himself training with Arya. Ade said Arya's success was mostly the result of the teenager's good attitude and determination, as well as support from his family.
In an era of social media fitness influencers, Ade remains a mainstay.
On YouTube, where Ade is committed to never asking viewers to "like" his videos or subscribe to his channel, he has 116,000 subscribers – even though he last uploaded a video 4 years ago. He has 488,000 followers on Instagram.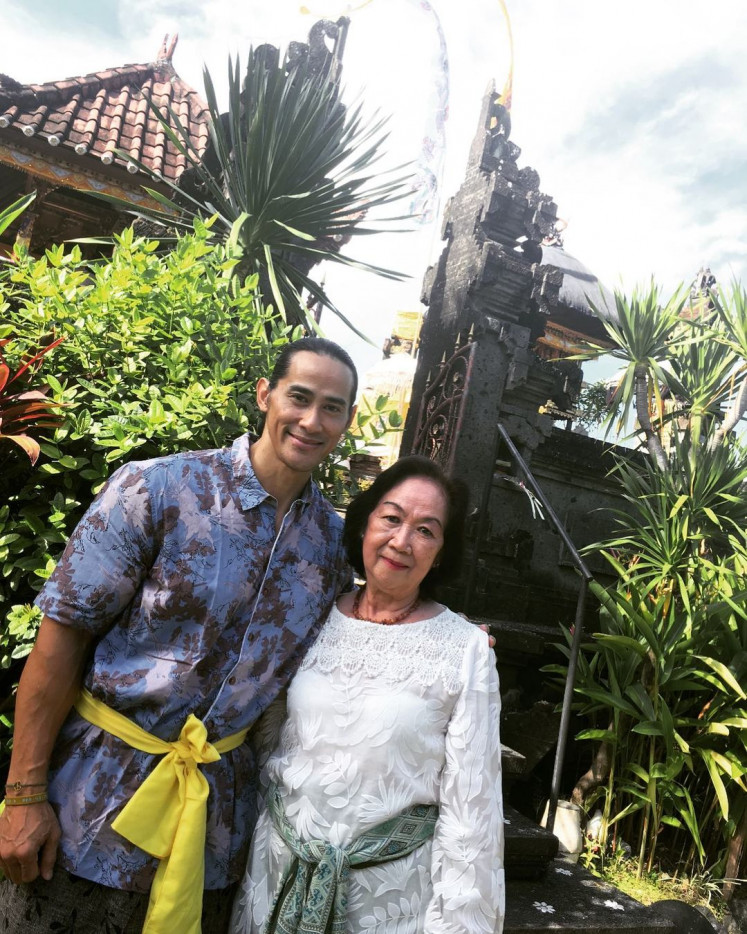 The idol's idol: Ade Rai with his mother Selena Susanti, who died last week at the age of 77. (Instagram/Courtesy of Ade Rai Instagram)
For him, however, the numbers are not that important.
"[What matters is that] people can find something useful [in my content]," he said.
Ade added that because he had been around for 35 years, he hardly needed to seek validation. The most important thing was sharing with people what bodybuilding had given him.
On July 23 of this year, Ade lost his mother, who died in Jakarta at the age of 77.
"My mother always believed in me, in my endeavors, in helping other people. She always supported me. We will always miss her," he said.