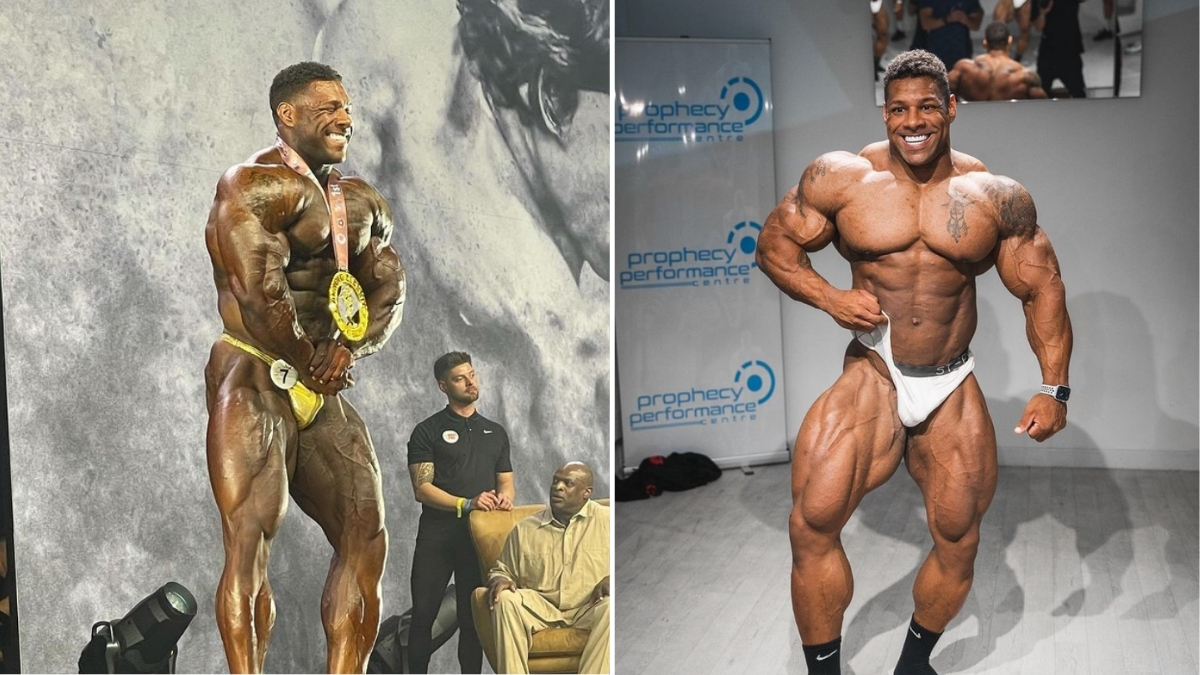 History was made at the inaugural Arnold Classic UK contest in Birmingham, England. Nathan De Asha won the first edition of the new bodybuilding contest — held at the Arnold Sports Festival UK from Oct. 1-3.
With this win, De Asha is the first man to qualify for the 2022 Mr. Olympia contest. Samson Dauda scored an impressive second-place finish against a seasoned De Asha. Theo Leguerrier ended up in third. The top five in the Men's Open division are listed below.
2021 Arnold Classic UK Men's Open Top Five
Nathan De Asha
Samson Dauda
Theo Leguerrier
Patrick Johnson
Krystian Wolski
Winner — Nathan De Asha
De Asha displayed incredible symmetry and came in very lean. It was apparent that De Asha was already prepping for the 2021 Mr. Olympia, taking place Oct. 7-10, 2021, in Orlando, FL. (De Asha is on the list of qualified athletes for the Olympia, though the actual competitor list is yet to be solidified.) Throughout the competition, the judges compared De Asha and Dauda repeatedly. The British bodybuilder didn't seem to fatigue as he flowed through his mandatory poses to his benefit.
Unfortunately for De Asha, Arnold Schwarzenegger wasn't in attendance as he's recovering from a leg injury. However, the winner did join eight-time Mr. Olympia Ronnie Coleman for the trophy presentation and an interview afterward. This is De Asha's second victory of the season. He also won the 2021 Europa Pro in Spain in August 2021.
Second Place — Samson Dauda
Dauda showed up to this contest bigger than ever and sporting a notable level of conditioning. He won't take part in the Olympia, so he placed all of his effort into his peak for this contest.
Dauda exuded confidence and made sure the judges had a difficult time deciding on a winner. Eventually, they opted for De Asha, who still has more muscle maturity and density. That said, fans should keep their eyes on Dauda in 2022.
Third Place — Theo Leguerrier
This was Leguerrier's fourth show of the 2021 season and his highest placing. His best placing before this was a fifth-place effort in the 2021 Mr. Big Evolution contest in July. To his credit, Leguerrier's third-place finish most likely had more to do with what De Asha and Dauda got right and less about what he got wrong. He may jump into one of the post-Olympia shows to qualify for the 2022 contest.
Other Division Winners
Four other IFBB Pro League took place at the Arnold Sports Festival UK. Another home country favorite, Ryan Terry, clinched the Men's Physique title and earned a 2022 Olympia qualification. The Classic Physique winner was Michael Daboul, and the Bikini champion was Phoebe Hagan.
The results in the Fitness division were the most surprising. After four competitors withdrew, Kate Errington was expected to be the only competitor in the lineup. However, after earning her pro card at the Amateur Fitness contest held on Oct. 1 at the ASF UK, Michelle Mensah stepped on stage as a pro and defeated Errington. Mensah went from amateur to Olympia qualified professional in less than 48 hours.
Men's Physique — Ryan Terry
Classic Physique — Michael Daboul
Bikini — Phoebe Hagan
Fitness — Michelle (aka Shelly) Mensah
And Then There Was One
Set to take place from Oct 7-10, Olympia weekend will see 11 divisions face off for a piece of the $1.6 million prize pool and the most coveted title in the sport of bodybuilding. The O is the season's final show for many of the top pros in the sport, and the last chance to qualify was at the Arnold Classic US.
For those who can't fly to Orlando, a PPV is available at olympiaproductions.com for $49.95.
Featured Image: @arnoldsportsuk and nathandeasha2 on Instagram