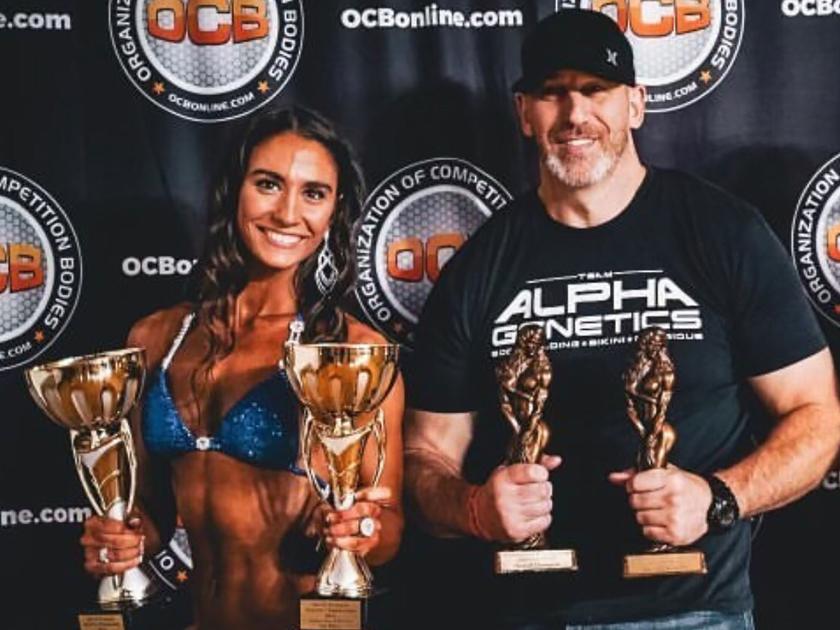 DuBOIS — Team Alpha Genetics, a DuBois-based all-natural bodybuilding team, has added another pro to their ranks.
Juliane Genevro, of DuBois, competing for her first time ever in the bikini division at the Steel City Natural Bodybuilding Championships in Pittsburgh on Oct. 2, won the overall bikini division title, beating out 13 other competitors and securing a pro card, according to Team Alpha Coach Matt Craig. She also placed first in novice.
"Earning the pro card allows her (Genevro) to compete against other pros for prize money," said Craig, noting that Genevro became the first female competitor from the area to turn pro in the natural bikini division.
Craig explained that judging for the bikini category is based upon having an overall healthy-looking, toned body with good symmetry, fullness, balance, shape and proportion with good posture, poise, confidence and stage presence.
Other factors that can affect overall appearance are suit fit, hair and make-up, skin tone, and complexion, said Craig. Bikini competitors should not display deep-muscle separation, muscle striations or an abundance of muscle size.
Craig said he and Genevro started working together in January of this year.
"We set out a workout plan to balance her proportions and started working on the posing right away," said Craig. "Bikini class is the only class in bodybuilding that requires the competitors to do specially choreographed posing routines that they are scored on, as well as the other facets. The preparation involves many facets of every day living to modified and sometimes eliminated.
"Competitive bodybuilding is truly a lifestyle not for the faint of heart," said Craig. "Many of the athletes I coach come from multi-sport backgrounds. However, they find out just how much tougher competition prep can be than many of the most demanding physical sports. I've had many great area athletes struggle to stay on track with grueling regimen of competition prep."
With Genevro's win, this makes it back-to-back Organization of Competitive Bodybuilders (OCB) bikini overall championship pro card wins for Coach Craig, who has been coaching since 2014; he competed in his first bodybuilding show in 1992.
"I continue to be rewarded with great results from both the lessons I've learned over my years of competing, judging, and coaching, as well as the undeniable hard work of these athletes," said Craig. "I am truly honored to be the one these athletes have entrusted to guide them on their journey to being their best in an extremely tough arena — the world of natural competitive bodybuilding."
The next show for Craig and his team is the OCB Chet Yorton Cup Professional Bodybuilding Natural World Championships, also being held in Pittsburgh this year.
Craig said Chet Yorton was a natural bodybuilder, who was one of the only men to beat Arnold Schwarzenegger in competition.
Craig said Team Alpha pro bikini competitor Heather Christiana of Reading will be competing against other top pros from around the world for the prestigious Yorton Cup trophy and prize money.
Those interested can follow Coach Craig and Team Alpha Genetics Bodybuilding Team on Instagram at: @coachmattycraig.