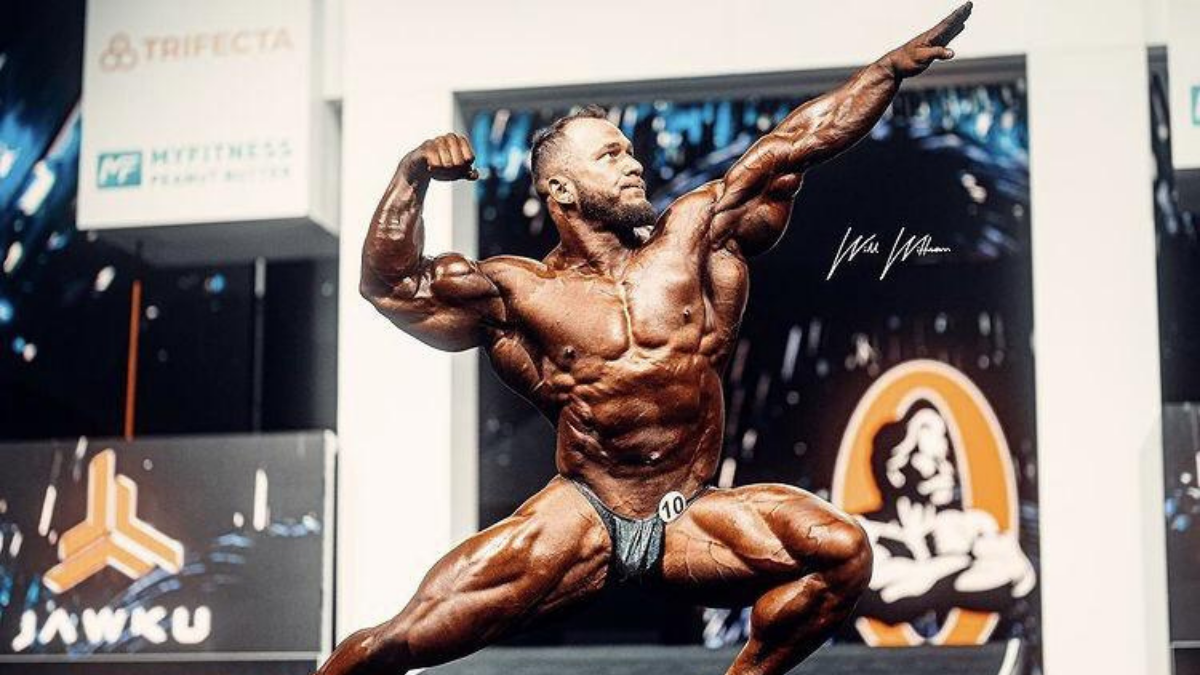 The sport of bodybuilding isn't just about moving weight — it's about artfully displaying muscular size, shape, and proportion. To earn high marks from the judges and roaring applause from the fans, competitive bodybuilders weave through a sequence of different poses designed to show off their best angles.
The Sandow trophy is ultimately won through muscularity, leanness, and grace on stage. Every competitor meticulously crafts their routine in the hopes of bringing the fans to their feet. In the long history of men's bodybuilding — the first contest took place in 1965 — athletes have come up with unique and fascinating ways to make their biceps pop, their quads bristle, and their shoulders span the stage.
[Related: The Ultimate Guide to Building Your Own Bodybuilding Workout Plan]
These 10 male bodybuilders, while great competitors in their own right, are most famous for how they presented their physiques to the world. Here are some of the best competitive posers in bodybuilding history.
Best Male Bodybuilding Posers
Ed Corney
If Schwarzenegger himself pays you a compliment, you know your posing is on point. In Pumping Iron (1977), Arnold remarked about Ed Corney, his training partner and fellow competitor, by saying, "that is what I call posing," after seeing him on stage.
Corney had a flair for the dramatic on stage and was able to hold his own against athletes much larger and heavier than he. Over the course of his long career, Corney won multiple prestigious titles including Mr. Universe and Mr. America in 1972. Following his death in 2019, Schwarzenegger named the Best Poser award after Corney, an honor gifted each year at the Arnold Classic competition.
Frank Zane
Physique icon Frank Zane won the Olympia thrice over — two victories in the lightweight division, and the overall title in 1979. Even more impressively, Zane beat Arnold Schwarzenegger in a head-to-head at the Mr. Universe in 1968, one of only three men to ever best the Austrian Oak in competition. Zane's successes were due in no small part to his posing proficiency.
Zane's trademark pose was the stomach vacuum, where he would retract his abdominals to make his waist seem nearly nonexistent. The vacuum would go on to be a staple of the modern Classic Physique division at the Mr. Olympia contest, reflecting Zane's legacy and impact on the sport. He retired from competition in 1983.
Bob Paris
In his younger years, Bob Paris was an award-winning painter — a skillset he applied to his stage presence as a competitive bodybuilder in the 1980s, where he was best known for his acrobatic, statuesque poses. Paris moved like water onstage, flowing from one leg or knee to the other and pausing at just the right moments to show off his best assets.
Paris was the 1983 IFBB Amateur World Champion, but was never able to clinch the overall title in his era. Although his highest placing at the Olympia was seventh, Paris is remembered for his elegance and poise onstage.
Francis Benfatto
Some athletes earn recognition without ever winning a professional contest. Francis Benfatto was a fan favorite strictly because of his posing. Every step he took on stage was precisely calibrated to display a feature of his physique, and he took the transitions between poses just as seriously as the poses themselves.
Benfatto was particularly dedicated to synchronizing his movement, matching his muscle contractions to the beats of the music played during his routine. He competed professionally from 1985 to 1993, and briefly came out of retirement to participate in the 2006 Australian Grand Prix, where he ranked sixth.
Mohamed Makkawy
Very few bodybuilders have a career as long and storied as Mohamed Makkawy. His reputation for artistry was renowned across multiple eras of bodybuilding, as Makkawy was known for being especially creative with his posing.
At only 5'4" tall, Makkawy came up with poses that both masked his weaknesses and made him appear larger than life next to his competitors. His best professional result was in 1984, where he very nearly defeated eight-time champion Lee Haney. Makkawy competed professionally from 1972 until 1999, though he did take a 12-year break from 1985 until 1997.
Lee Labrada
In his heyday, Lee Labrada was one of the most successful competitors in the pro circuit. From the late 1980's into the early 1990's, Labrada went pose-for-pose against Lee Haney in an attempt to dethrone him at the Mr. Olympia contest. Despite being the last two men on stage in 1989 and 1990, Labrada wasn't able to take the title.
Labrada was dedicated to making his transitions — moving from one pose to the next — as natural as possible. His attention to detail, as well as inventing his own "bow and arrow" pose, helped him place in the top four at the Mr. Olympia for seven consecutive years.
Labrada's influence on modern posing can be seen in his son Hunter, who finished fourth at the 2021 Mr. Olympia, and in Classic Physique competitors like Terrence Ruffin, who finished second at the same event.
Shawn Ray
Some athletes carve their name into bodybuilding history without taking home a Sandow. Shawn Ray has only two IFBB wins to his name — the 1990 Ironman Pro and the 1991 Arnold Classic. That said, he placed in the top six at the Olympia every year from 1990 until his retirement in 2001. His second place finish in 1996 is considered a historical upset, as many fans feel he should've beaten Dorian Yates.
Ray's posing was second to none. He was consistent and methodical on stage, posing to slower music than his competitors, rarely displaying so much as a twitch or grimace. After his retirement, Ray maintained a presence in the sport, but his standing as an all-time great poser is forever etched into bodybuilding lore.
Melvin Anthony
Melvin Anthony understood the importance of showmanship better than most. He won several shows in the 2000's as a professional, and many of his successes were due to his flair for the dramatic onstage.
Anthony was a versatile poser — he could be ostentatious or restrained, and knew exactly when to turn things up a notch to engage the audience. His inclusion of dance moves and acrobatics between poses would impress the fans and judges, while threatening the competitors that had to follow him.
At the 2005 Arnold Classic, Anthony finished in fifth place. But his "Phantom of the Opera" routine permanently cemented him as a cross between physique athlete and thespian. In his final competitive season in 2010, he won the Open division at the Arizona Pro.
Dexter Jackson
Dexter Jackson is known for coming in sharp, both in terms of conditioning and posing. "The Blade" was on point in 2008 when he took the Olympia belt from then-champion Jay Cutler. Jackson's leanness and refined posing routines made him a dangerous opponent for the entirety of his 21-year professional career (1999 – 2020). He never placed lower than ninth at any point of his two-decade tenure in the sport.
Jackson knew when to take things slow and when to kick things up a notch, and he never brought the same routine to the stage twice. At the age of 51, Jackson finished ninth at his final Mr. Olympia in 2020, but The Blade was still considered one of the best posers at the show.
Sergio Oliva Jr.
Not all of the posing icons in bodybuilding are from years past. Although some say posing is a lost art in bodybuilding, Sergio Oliva Jr. knows how to make every moment count. The former New York Pro champion won the Ed Corney posing award at the Arnold Classic in 2020 and 2021, and for good reason.
Each step and stance Oliva Jr. takes on stage maximizes his strengths. He's also known for hitting his father's iconic "Victory" pose. Oliva Jr.'s posing style is a sign that he respects bodybuilding's past. His impressive muscularity indicates that he's part of the sport's future.
Featured Image: @w_wittmannphoto / Instagram