CrossLifter, Pro Bodybuilder and coach Obi Vincent has become a powerhouse in the fitness industry.
He placed top 5 at the WBFF Muscle Model Europe Championships 2013 and top 4 at the Miami Pro 2013.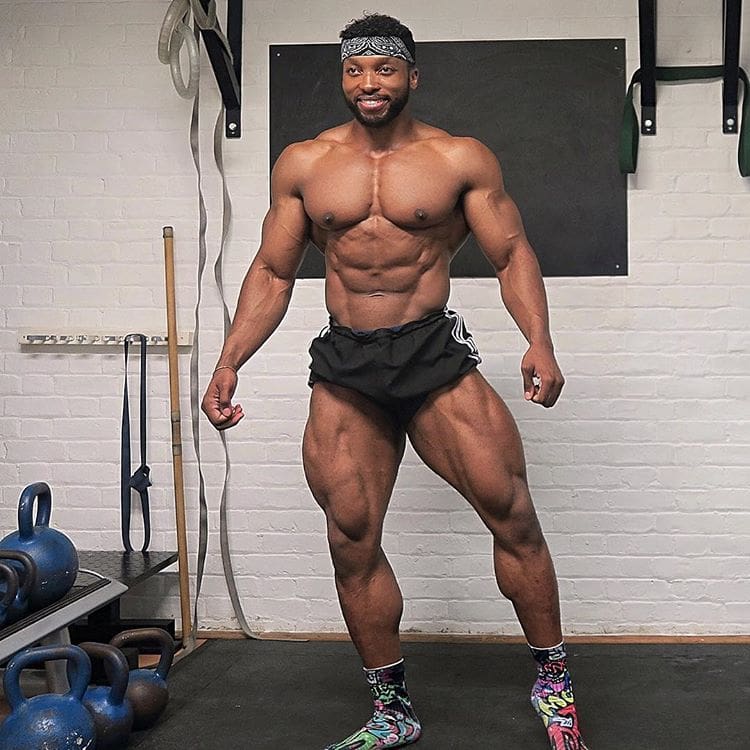 Learn more about his journey and add his tips, tricks and workouts into your training.
Obi Vincent
Nationality: British
Height: 6'2″
Year of Birth: 1988
Place of Birth: London
According to greatest physiques, "Obi Vincent was overweight as a kid. Growing up, he didn't have any interest in sports or fitness, and he loved to indulge on his favorite snack – deep fried candy bars.
After years of watching TV and living off junk food, he found himself at 112kg/247lb by the age of 16. Obi was quickly reaching obesity, but it was only when a girl made fun of his weight when he became unhappy with his body. He realized that he had to make a change, motivated himself to achieve a shredded physique.
A decision that would lead him to becoming a fitness icon."
Obi Vincent has trains with a unique and effective combination of CrossFit and Bodybuilding.
Check out our selection of his workouts
Workouts from Obi Vincent
Choose your next workout
Workout 1
Sunday Funday 🔥.. this was part 2 from my session and the Ski erg was a struggle after doing a fair amount of Double unders/rowing prior to this. At 6'2 and being a little over 112kg I still suffer from "too much muscle not enough lungs" (yes this is a thing I made up in my head but its very accurate)..lol
📝 18mins Emom
1️⃣15cal ski (alternative: use a rower)
2️⃣15 Down ups also not going to lie i had to scale to 12 reps on the down ups after round 3..haha
3️⃣12 (2 x 22.5kg) Double snatches
Workout 2 – Thoracic Mobility
Thoracic Mobility 🔥 From todays Training session. Nothing fancy but great to add to your routine either before a lift or on your mobility day.
With every single movement make sure you engage/brace your core before performing the exercise and take your time its not a race so don't rush through the movement just to get it over with.
on the First exercise I am resting my right quad against a foam roller which is placed on the wall.
➖➖➖➖➖➖➖➖➖➖➖➖➖➖➖
Thoracic Rotations 1 x 10 E.side
Thread the needle 1 x 10 E.side
Banded Cat camel 1 x 10
Squat + Ext rotations 1 x 10
Workout 3
Shoulder/Core/Lower Back Strengthening/Stability Exercises from my training Last week 🔥.
Some sessions i spend time working on the boring yet essential stuff, especially the way with the way i train my body needs alot of TLC 😅!
➖➖➖➖➖➖➖➖➖➖➖➖➖➖➖
1️⃣Db Windmill
2️⃣Banded DeadBugs (Great Core/Lower back Exercise)
3️⃣Half Get Ups
4️⃣Seated Good Mornings (when seated the focus is Primarily Strengthening the Lower back compared to standing)
Workout 4
If you look closely you'll notice my phone falling out my pocket and I'm praying the screen isn't smashed whilst also trying to focus on the exercise! 😅
Some Bodybuilding Action at the box and as you can see I've mastered the art of improvisation on some exercises.. ha
➖➖➖➖➖➖➖➖➖➖➖➖➖➖➖
1a: Seated Military Press 4 x 8 (4th is a dropset)
1b: Tempo Chins 4 x 8-10
2: Tempo Pause Dips 4 x 6
3a: Preacher curls 4x 10
3b: Plank push ups 4 x 10
Workout 5
Its been a while since I've actually done any snatches so it was nice to be able to do them again in this workout… however this workout felt like it went on foreverrrr, honestly half way through I just felt like a slug and the worst part was definitely the struggle Burpees aka Death drop pull ups..lol
➖➖➖➖➖➖➖➖➖➖➖➖➖➖➖
📝
1000m Row
21x Snatches (60kg)
21x Burpee pull ups
21 x 32kg Akbs
500m Row
15x Snatches
15x Burpee pull ups
15 x 32kg Akbs
250m Row
9x Snatches
9x Burpee pull ups
9 x 32kg Akbs
150m Row
Now check out a typical training week for Obi Vincent from his bodybuilding days on the next page.