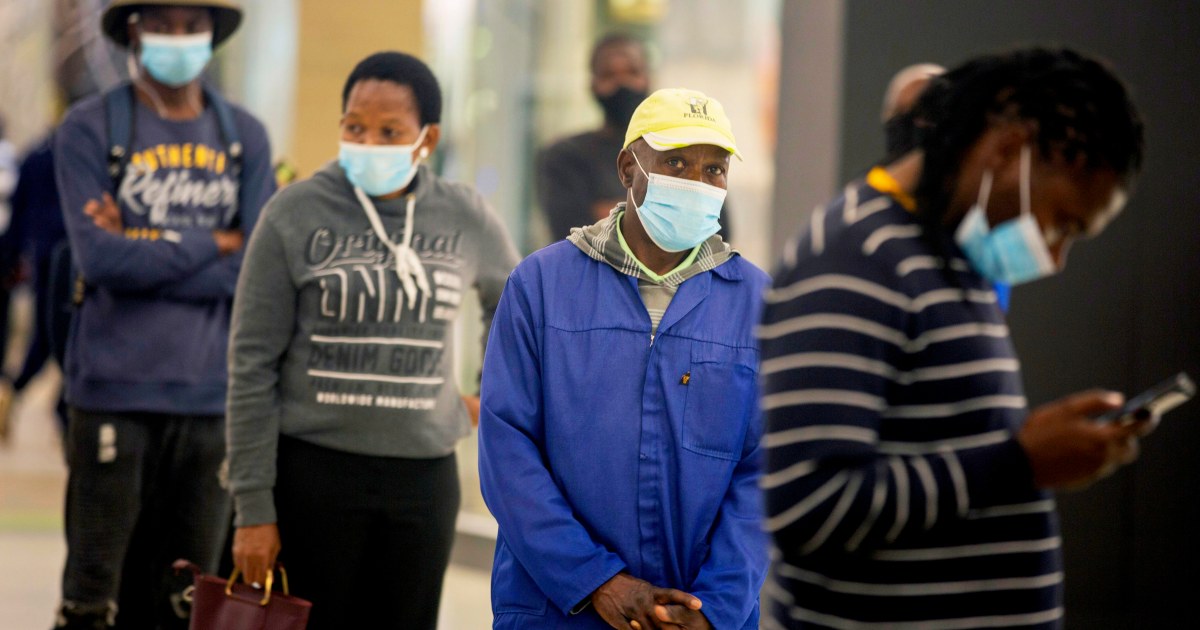 LONDON — Countries across the world rushed Friday to identify potential cases and halt travel from southern Africa where a new variant of Covid-19 emerged as a sudden source of global alarm.
The global scramble to contain the new Covid-19 variant was met with a plea for caution from the World Health Organization (WHO), even as cases were confirmed in Asia and Europe. The body convened Friday for an emergency meeting to assess the situation.
But stocks tumbled on fears of another pandemic setback, and the U.S. woke up the day after Thanksgiving to the possibility of a more uncertain holiday period ahead.
Scientists are still learning about the variant, which was first identified earlier this week and is currently known as B.1.1.529, but its concerning nature led to rapid developments as fears hit governments and markets alike.
Wall Street opened sharply lower, with the Dow dropping around 800 points to start Black Friday. Oil prices and airline shares plunged, while major stock indexes also fell in Europe and Asia.
Dr. Anthony Fauci said no decision had been made on potential U.S. travel restrictions for the region.
He told CNN that federal health officials would hold discussions on Friday with their South African counterparts and that there was no indication at this stage the new variant was already in the country, but that it was possible.
"We want to find out scientist-to-scientist exactly what is going on," he said. "It's something that in real time we're learning more and more about."
The U.K. said late Thursday it was banning all direct flights from six African countries: South Africa, Botswana, Lesotho, Eswatini, Zimbabwe and Namibia.
Israel, Singapore, Japan and a flurry of European countries also quickly announced travel restrictions from parts of the African continent, while the European Union's executive recommended a similar suspension of air travel from affected countries. The 27-member bloc is already battling its own growing Covid crisis.
The U.K. Health Security Agency said the variant includes a large number of mutations that may change its behavior with regard to vaccines, treatments and transmissibility.
"This is the most significant variant we have encountered to date and urgent research is underway to learn more about its transmissibility, severity and vaccine-susceptibility," said Dr. Jenny Harries, the agency's chief executive.
The variant was found earlier this week in South Africa and Botswana and while the extent of its spread has yet to be determined, a few cases were soon confirmed beyond Africa.
The Hong Kong government said Thursday that it had detected two cases, while Belgium became the first E.U. country to announce a case of the variant on Friday. Israel also said it had identified a case in a traveler returning from Malawi, with two other suspected cases placed in isolation. "We are currently on the verge of a state of emergency," Prime Minister Naftali Bennett warned. "Our main principle is to act fast, strong and now."
The WHO said that it was convening a meeting of its Technical Advisory Group on Virus Evolution to determine whether it should be designated as a "variant of interest" or "variant of concern."
Maria Van Kerkhove, an infectious disease epidemiologist and Covid-19 technical lead at the organization, said Thursday that if it was designated it would be given a Greek name.
"We don't know very much about this yet, what we do know is that this variant has a large number of mutations," Van Kerkhove said in a video on Thursday. "The concern is that when you have so many mutations it can have an impact on how the virus behaves."
The WHO warned that it would take a few weeks for it to understand the impact this variant has.
"At this point, implementing travel measures is being cautioned against," spokesperson Christian Lindmeier told a U.N. briefing in Geneva Friday, according to Reuters.
South Africa also pushed back against the U.K.'s temporary ban on flights from the region, describing it as "rushed."
"Our immediate concern is the damage that this decision will cause to both the tourism industries and businesses of both countries," said Naledi Pandor, its minister of international relations and co-operation.
The emergence of the new variant was already being felt around the world, however, where some had hoped that vaccination campaigns could mean a 2022 largely free of the restrictions and anxiety that dominated the past two years.
Global vaccination rates remain uneven, with citizens of some wealthy industrialized countries already being offered booster shots while other nations struggle to inoculate their populations due in part to lack of access and public hesitancy.
The global death toll from Covid-19 topped 5 million people earlier this month.
Vivi Vitalone, Associated Press and Reuters contributed.