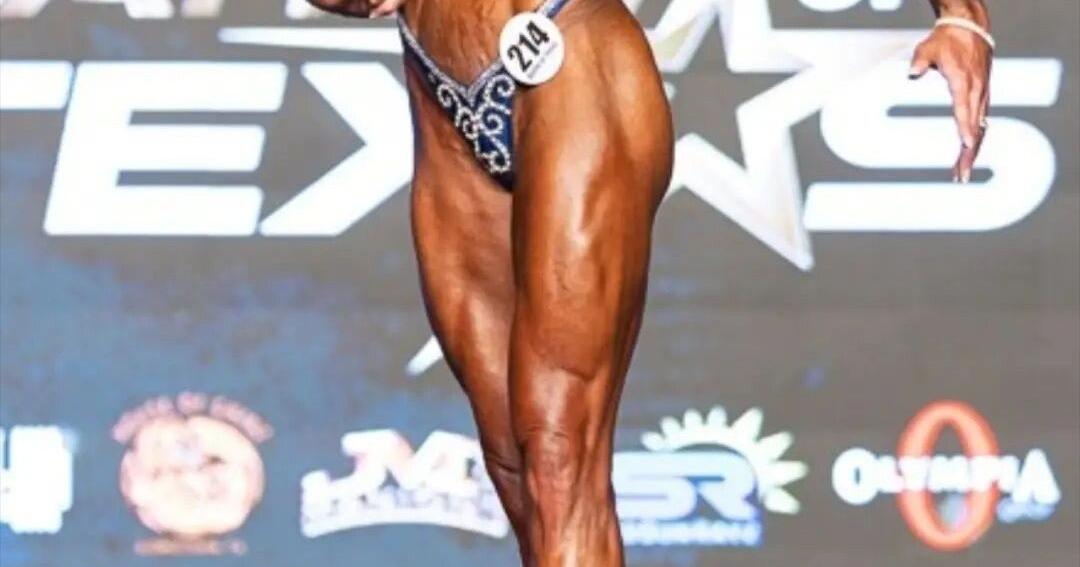 ENID, Okla. — Finer Physiques personal trainer and nutrition coach Kat Kannberg competed in her sixth physique competition over the weekend in Dallas, Texas.
Kannberg competed in the Battle of Texas — Super Show, which is the largest show in Texas with 720 athletes competing.
She won first in her class in the figure category, first in the master's 35 plus and second overall for the women's competition.
Normally, competition preparation takes four to six months, but this time around, Kannberg only had 10 weeks to prepare.
"It was a little hard because of it being so strict," Kannberg said. "There was no play room with it. When you have 10 weeks, you have to be super strict. No cheats. I mainly just cleaned up my diet, since I was already doing the workouts."
Kannberg ate five to six meals a day, following a strict plan from her trainer. Meal prep service Kristi's Kitchen, inside of Finer Physiques, prepared all of her meals for the 10 weeks.
"I am completely amazed at how well she did," said Kristi Bolin, owner of Kristi's Kitchen. "She never cheated and always stayed on track. I don't know how she does it."
Unlike other competitions, bodybuilders are judged based on how they look, instead of performance. In physique sports, there are different divisions and classes at the competition level, based on gender, level of muscularity and experience.
For women, competition categories are bikini, fitness, figure, wellness, physique and bodybuilding. Figure competitors are judged based on body and muscle symmetry, presentation and other aesthetic qualities.
Several Enid businesses sponsored Kannberg for her expenses with meal prep, tanning, hair, makeup, competition wear and travel. It costs around $3,000 to do one of these competitions, Kannberg said.
As a certified personal trainer, Kannberg understands everyone's varying starting points and goals with fitness.
"I try to help everyone to be happy and healthy," Kannberg said of her job. "Everybody has different goals. Not everyone has to be a bodybuilder."
When Kannberg had her third child in 2000, she struggled with how she looked postpartum, so she went and joined a gym.
"One of the trainers saw that I had the right body type for competing and talked me into trying it," Kannberg said. "Now, I have done six total competitions. I have been in the top five rankings of all six shows. I have been lucky and put in a lot of work."
Gym time, meal prepping, cooking and grocery shopping is like a second job, Kannberg said. Though she is more than qualified to create her workout programming and meal plan, she has a trainer regularly assist her with competition preparation.
In addition to her husband cheering her on, she said she had a big support system this time. Great supporters make a world of difference, Kannberg said.
"She is very committed," said Louis, Kat's husband of 21 years. "When her trainer gives her a menu, she never strays off it. She follows everything to a T. Not even a little nibble of chocolate, here and there. That's the difference between first and second."
Ahead of her training, Kannberg posted on social media that she would be competing. People around Enid, her clients and social media followers gathered up their support for her.
"A lot of the people who helped were just my clients who believed in me," Kannberg said. "Everyone was just so great about helping. I love that about Enid."
Dalen McVay, owner of McVay Law Firm, is trained by Kannberg. McVay pledged his support to her, along with dozens of other Enid businesses and residents.
"Kat has trained me the last two years at Finer Physiques," McVay said. "While I thought I had it figured out prior to hiring her, she elevated my fitness level almost immediately. I've seen her work with all body types, and she gets tremendous results with those that stick to her plan. Whether lifting, cardio or meal plans, her knowledge is tremendous and she's great at developing a plan based on your desires."