ENID, Okla. — Bodybuilding is more than the Arnold Schwarzenegger look. As the sport becomes more popular, people of all different backgrounds and physiques can join in.
This is a fitness activity that provides a challenge, creates community and changes the body and mind. From former athletes to middle aged adults, anyone can try it with the right tools and motivation.
Bodybuilding is the use of progressive resistance exercise to control and develop one's muscles (muscle building) by muscle hypertrophy for aesthetic purposes.
People who build their muscles and physique for competitions aren't super humans who eat only vegetables and chicken with constantly sculpted six-pack abs. In fact, there are dozens of bodybuilders in and around Enid.
The health benefits
Weight and resistance training like bodybuilding isn't just for young men who want big muscles. Training your muscles, even with light weights can be beneficial to people of all ages. One doesn't need huge, bulky muscles to be a bodybuilder.
Strength training benefits include: a faster metabolism, decrease in fat, decreased risk of falls and injuries, improvement of heart health, management of blood sugar levels, greater mobility and flexibility, boosts self-esteem and mood, strengthens your bones and improves brain health, according to PubMed Central.
What does bodybuilding look like?
There are several different classes to compete in for men and women based on where one's current physique is and goals. Different divisions emphasize different sizes, styles, and levels of conditioning, according to Bodybuiliding.com
Women have several different categories to choose from: Bikini, Figure, Women's Physique, Bodybuilding, Fitness/Wellness.
Men's categories are Men's Physique, Classic Physique and Bodybuilding.
Bodybuilders
Shannon Diel, co-owner of AnyTime Fitness in Enid holds her pro-card for the International Federation of Bodybuilding and Fitness. She is also a certified personal trainer.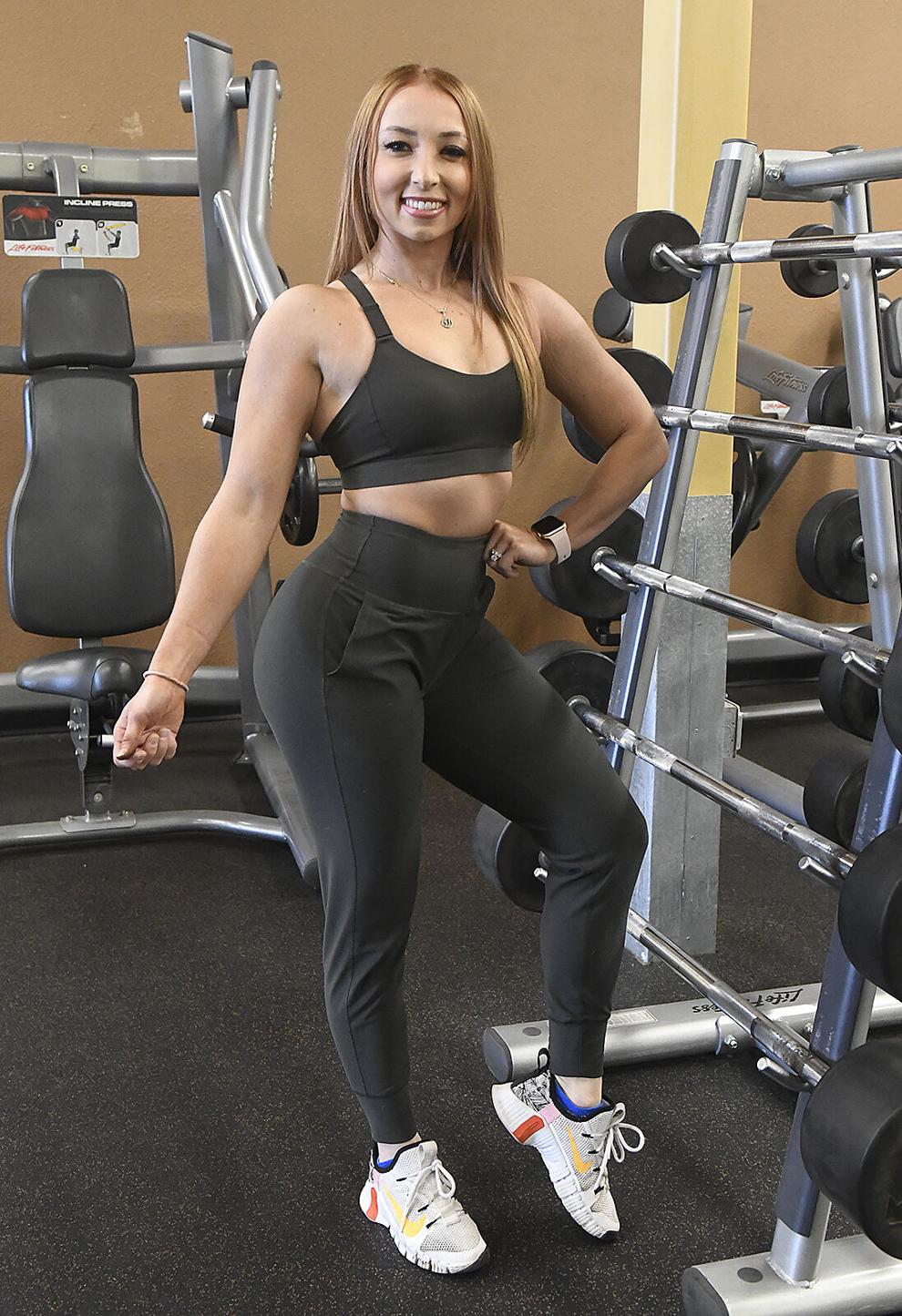 Diel has been competing for two and a half years. She earned her pro card in May 2021.
"My recommendation is to come in and do 30 or 45 minutes more often throughout the week than lifting two hours for two days or something. The more you move in a day, the better. So, five workouts for 30 minutes would be way better for you."
According to her own experience in bodybuilding, you will learn so much about yourself including how strong you are while you grow mentally and physically.
"It's definitely changed my life for the better," Diel said.
There are different phases you have to go through. That's why bodybuilding takes so much time and patience, she said.
She really emphasized the importance of finding and investing in the right coach. All trainers and coaches will tell you that you need another set of eyes on, even if you are certified or experienced. You can screw up your metabolism and hormones with intense dieting, she said. She also recommends getting regular blood work done.
"A lot of people think when you are in the gym, you are building muscle, but it's just the opposite," Diel said. "You are actually breaking it down, tearing the muscle fibers down. So, rest is actually when your muscles grow. You have to eat to grow, so if you are in a calorie deficit, you are not growing muscle. You have to be eating maintenance level calories or a calorie surplus."
Diel said that bodybuilding really has changed her life for the better, showing how strong and capable she really is. "You will learn a ton about yourself mentally and physically," she said.
For people with kids or a litany of other responsibilities and other activities, bodybuilding can be a challenge. However, that didn't stop Kara Bergdall from competing in two competitions over the past two years with her friend and her husband.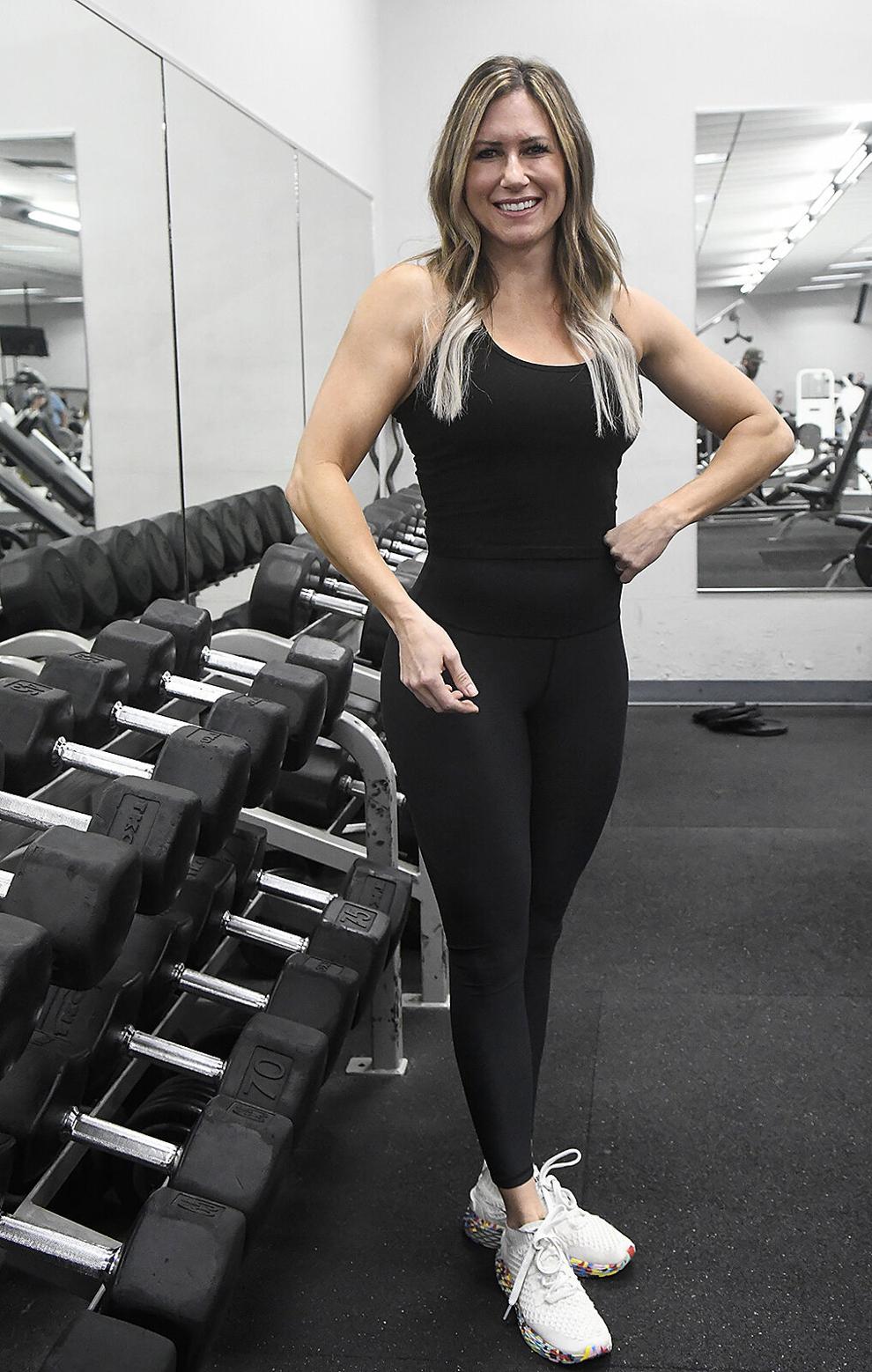 Bergdall trains at Finer Physiques. She is a mom of three, who balances a full time job on top of bodybuilding.
"I have always been interested in bodybuilding," Bergdall said. "I never wanted to get on stage in a bikini and heels, but I have been into fitness since I was 16."
When a friend of hers said she was going to compete, she talked Bergdall into meeting with certified trainer and competitive bodybuilder, Kat Kannberg.
Bergdall said juggling the kids' schedule with her husband's training was the biggest struggle when she was preparing for her competitions. They had to take cold, prepped meals with them on the road to kids ball games or trading off scheduled gym time with her husband
"Training was hard because we both had to go to the gym," Bergdall said. "I would go at 5 a.m. or he would, we would have to switch, or if we didn't want to bring the kids, or if there were evening practices. We were constantly trying to make the food and schedule work, which was a lot."
Bergdall competed in a show in May 2021. She placed second in Women's Figure — Master's 35 and up division. As well as second in the Women's Figure Open Class B.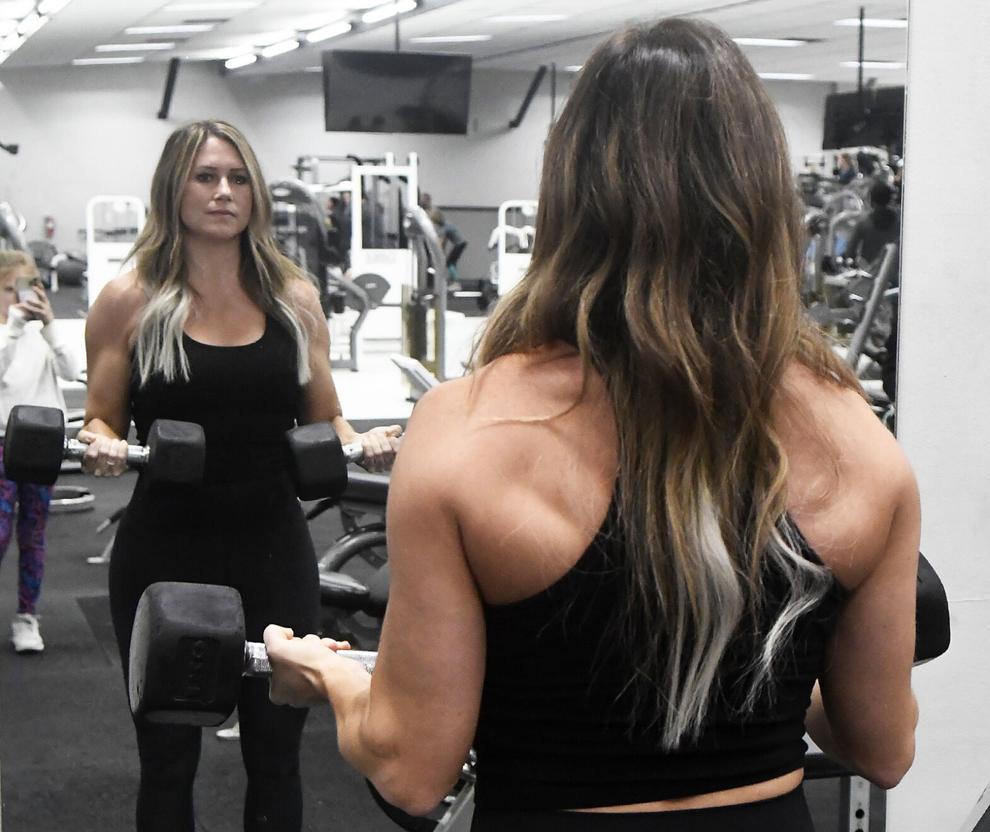 "When I first met with Kat, I didn't know anything about competing," Bergdall said. "Bikini, figure, I had no idea. Kat put me in figure because I have a bigger back and broad shoulders. So we spent 6 months of COVID to put on muscle."
Though Bergdall placed in her shows and enjoyed it, she said she doesn't have a desire to do anymore shows.
"I did well in those shows, so I am just where I finished. I don't have the desire to get a pro-card. It was something I wanted to try, mark off the bucket list. Maybe in 5 years, if I get bored again, I may do it again. I do get bored working out with no goal in mind."
Sarah and Joe Long both compete in bodybuilding. Joe had been involved in lifting for a while when Sarah met him.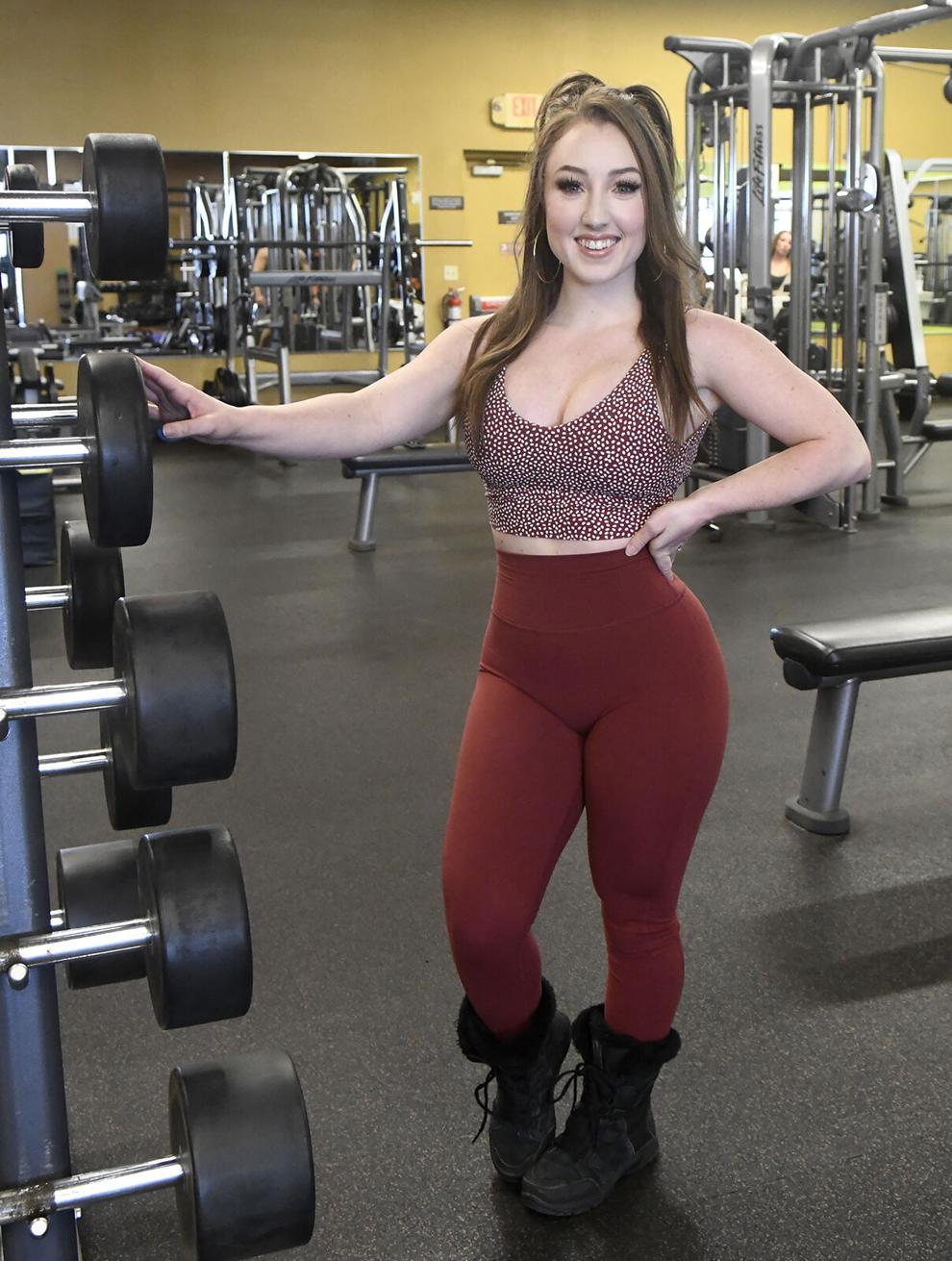 Sarah and Joe are former managers of AnyTime Fitness and are current certified personal trainers. They married in Sept. 2021.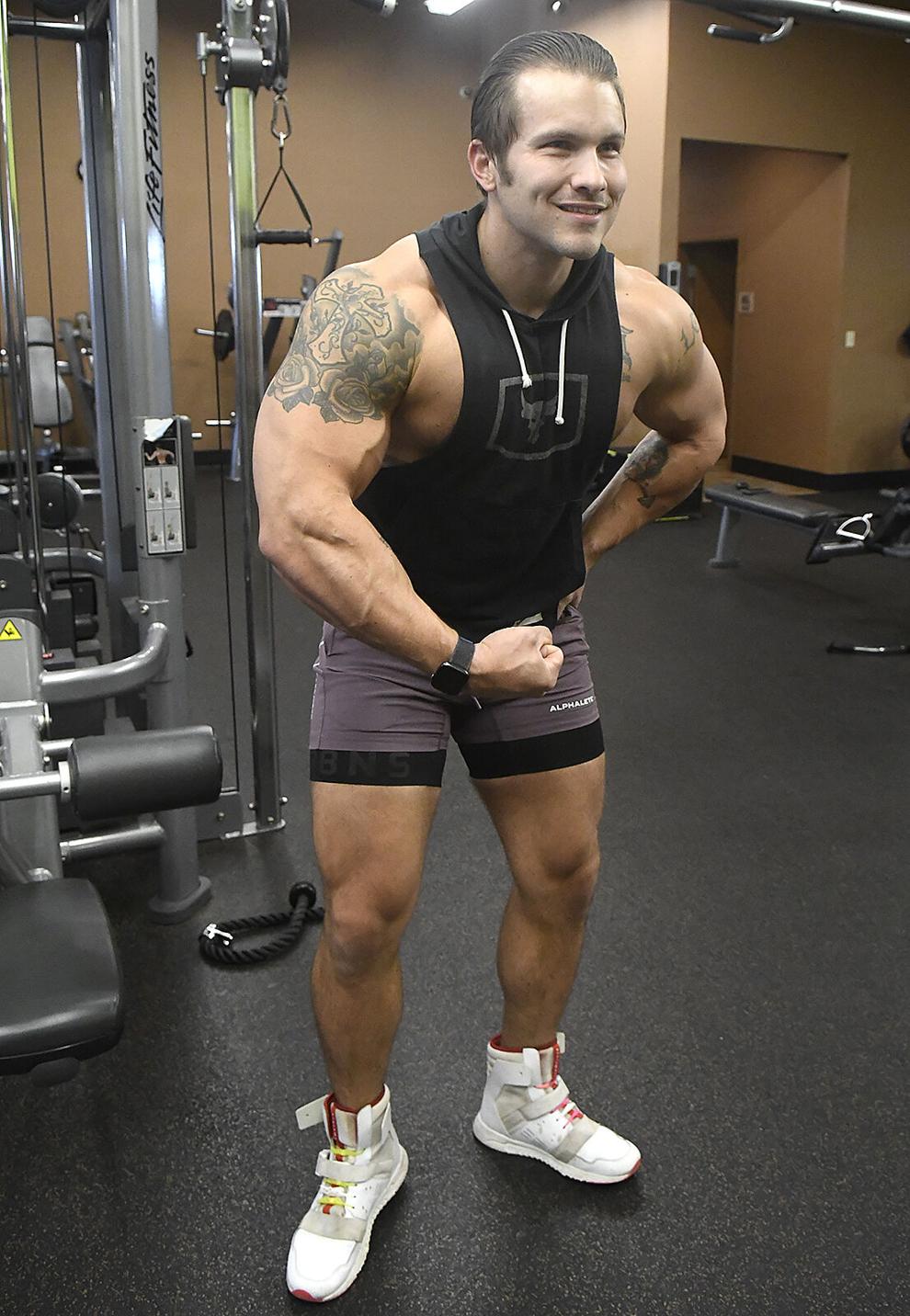 Sarah said that watching Joe become fitter and stronger, then compete in competitions fired her up and made her interested in lifting. Sarah is a former gymnast and cheerleader. She has a lot of muscular development on her lower half, which is why she competes in the Wellness bodybuilding division.
Joe was a former college athlete, but began lifting more after he got out of college, losing almost 100 pounds. Then decided he wanted to get big. He also joined the military, which helped him with fitness as well.
"Eventually, I decided to compete and did pretty well," Joe said. "I really enjoy it. I feel weird if I am not going to the gym."
Joe is now qualified to go to nationals at the end of 2022, and will hopefully receive his pro card, he said.
The Longs shared a coach they shared when they are in prep mode.
"If you really want to do bodybuilding, get a coach," Sarah said. "Not only do they prep you, but they look at you and tell you where you're at, then they tell you if you need to cut or bulk first. They can help you pick a show too."
Sarah has done two shows in the wellness division, and is currently in a growth season.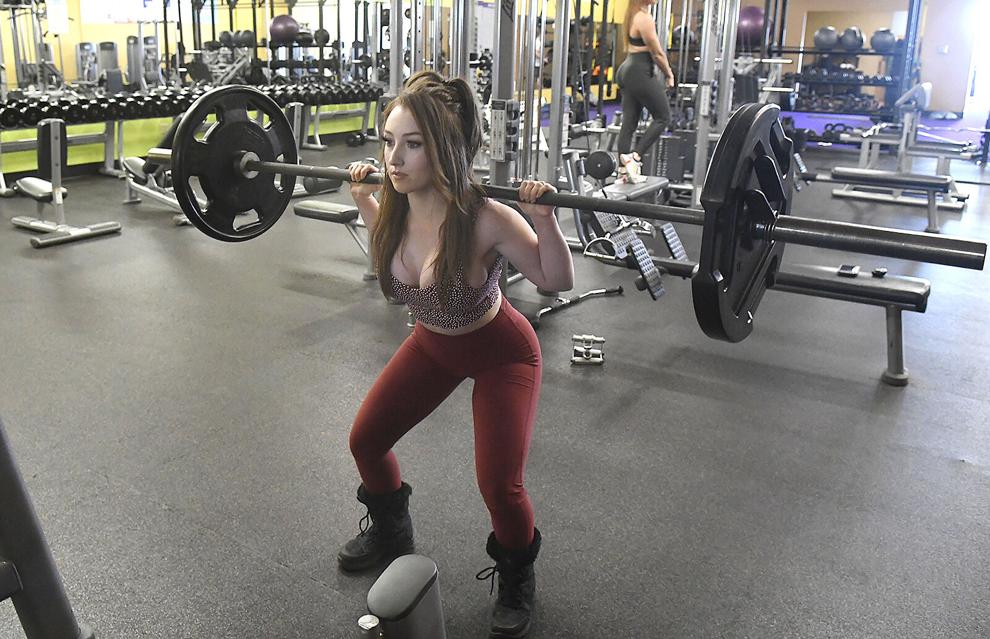 Joe has done two shows in the Classic Physique. He will be using the rest of 2022 to prepare for his nationals show.
In their off season, bodybuilders don't usually follow strict eating plans, but it ultimately comes down to preference.
"I do intuitive eating. I don't really calorie count as much," Sarah said. "I listen to my body, I look in the mirror. I don't really pay attention to the scale because muscle weighs more than fat. You can get in tune with your body and feel it that way."
Joe took a break during the holidays, but usually tracks all of his macros. Once prep season starts, however, both Joe and Sarah buckle down.
"I eat what I want, I just make sure I know how much of everything I am eating," Joe said.
How to get into it
Find a certified personal trainer at just about any gym in town, many gyms employ certified personal trainers.
All of the people in this story would be a great resource for getting started or could point you in the direction of someone trustworthy and educated on these fitness activities.
If you are unsure if these fitness activities are right for you, consult your doctor. However, generally a personal trainer or fitness instructor will assess your current strength and mobility levels ahead of beginning a workout regimen.
Many classes and workouts have modifications available for people with limitations.