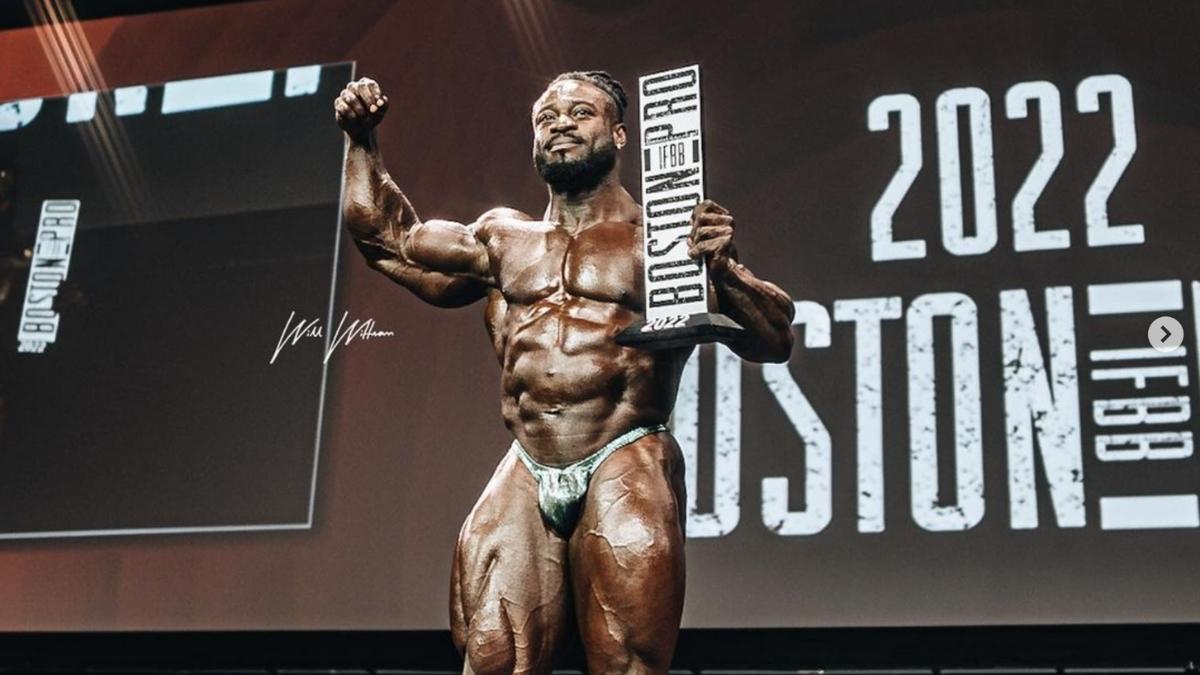 The IFBB Pro League's inaugural Boston Pro bodybuilding show is in the books, and the first Men's Open champion of the contest is familiar to fans — William "The Conqueror" Bonac. Justin Rodriguez placed second and Steve Kuclo got third. In total, eight divisions were showcased with around 60 athletes competing. The full placings for the Men's Open are below.
2022 Boston Pro Bodybuilding Show Results
William Bonac
Steve Kuclo
Samson Dauda
Maxx Charles
Phil Clahar
Regan Grimes
Nathan Spear
Doug Fruchey
Eslam Mohamed
Justin Maki
The Show took place at the Sheraton Boston Hotel on March 12, 2022.
[Related: Bodybuilder Nick Walker Shares His Grueling Leg Workout]
Winner — William Bonac
Bonac's appearance at the Boston Pro Show was unexpected. A week prior, he took second to Brandon Curry at the 2022 Arnold Classic. Riding what could be considered one of his better packages, Bonac decided to enter the Boston Pro last minute and capitalize on his impressive physique.
Compared to Ohio, Bonac looked a bit leaner. He's always carried a lot of dense muscle and knows how to present his physique through thoughtful and artful posing. Every judge placed him in first.
This was Bonac's first victory since winning the 2020 Arnold Classic, and it's his sixth career pro win. He will now move on to the 2022 Olympia in Las Vegas, NV, scheduled for the weekend of Dec. 16-18, where he hopes to improve on his sixth-place finish at the 2021 contest.
Second Place — Justin Rodriguez
One week prior to this contest, Rodriguez placed fourth in the Arnold Classic, one place behind third-place finisher Steve Kuclo.
It's not clear what adjustments Rodriguez made in preparing for this show, but whatever he did worked because he leapfrogged Kuclo to finish as the runner-up in Boston. When he performed his individual routine, he held each pose for several seconds, which gave the judges a great opportunity to evaluate him. His posing combined with his confidence may have been why he was placed in the number two spot.
Third Place — Steve Kuclo
Kuclo remained one of the largest competitors on the stage. He usually always is. After placing third at the Arnold a week prior — his best Arnold finish to date — Kuclo was undoubtedly hoping for first place and an automatic Olympia qualification. However, Bonac's dominance and Rodriguez's tweaks were enough to keep "The King Snake" out of striking distance.
Other Division Results
Counting the Men's Open, seven pro divisions were featured at the Boston Pro.
[Related: 49-Year-Old Bodybuilder Lee Priest Teases Competitive Comeback With Recent Physique Update]
The winners included Classic Physique's rising star, Urs Kalecinski, 2022 Arnold Classic Men's Physique winner Erin Banks, former Fitness Olympia winner Missy Truscott, Lola Montez in Figure, Yarishna Ayala placing first in Wellness, and Maureen Blanquisco taking the Bikini title.
Classic Physique
Urs Kalecinski
Tony Duong
Andrew Wilson
Lamar Shaw
Michael Bell
Men's Physique
Erin Banks
Diogo Montenegro
Joshua Guidry
Emanual Hunter
Antoine Weatherspoon
Fitness
Missy Truscott
Jaclyn Baker
Tamara Vahn
Aurika Tyrgale
Stephanie Jones
Figure
Lola Montez
Nicole Zenobia Graham
Bojana Vasiljevic
Maude Exantus
Kiah Tiller
Bikini
Maureen Blanquisco
Elisa Pecini
Eli Fernandez
Alessia Facchin
Jessica Nicole Dollas
Wellness
Yarishna Ayala
Angela Borges
Julia Chitarra
Tracy Williams
Lorena Ragusa
Olympia Qualification System Points
The Boston Pro is a Tier 4 show in the Olympia Qualification System. All division winners are automatically qualified for the 2022 Olympia, but the second through fifth-place finishers earn points that can potentially help them earn one of the three positions awarded to non-winners throughout the season.
The points that each top-five finishing athlete in all divisions will receive are below:
2nd – 4 points
3rd – 3 points
4th – 2 points
5th – 1 point
Featured Image: @bostonproshow on Instagram | Photo by @w_wittmann photo