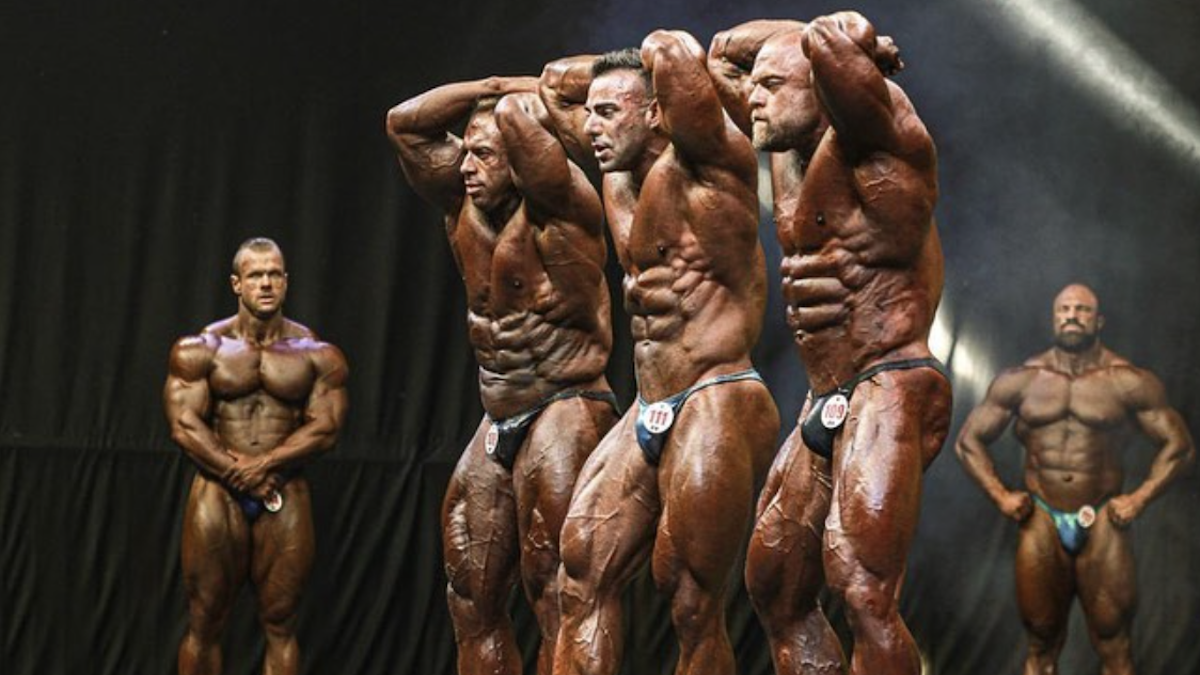 IFBB pro Open bodybuilder Rafael Brandão has won the 2022 Arnold Classic South America contest in Sao Paulo, Brazil. Brandão secured the championship on Saturday, Apr. 30, 2022, by outlasting eight other bodybuilders that he faced onstage. The contest was streamed on the MuscleContest International YouTube channel. The top ten finishers for the competition are below.
2022 Arnold South America Results | Men's Open
Rafael Brandão – R$50,000 ($10,055 USD)
Vitor Hugo Boff – R$20,000 ($4,022 USD)
Thiago Lens Adao – R$10,000 ($2,011 USD)
William Martins
Emir Omeragic
Alan Ramino Bonadiman
Marcelo Pedro da Cruz
Jefferson Santos
Eduardo Rodriguez
Iman Rezari
Brandão became the contest's eighth champion in its nine-year history and is the first Brazilian competitor to win the show.
[Related: Classic Physique Bodybuilder Terrence Ruffin Shares His Push/Pull Workout Routine]
Winner — Rafael Brandão
This contest was expected to be an easy victory for the 2021 Romania Muscle Fest Pro winner, but he went through multiple comparisons with runner-up Vitor Hugo Boff. Brandão was actually in second place after prejudging. However, Brandão's symmetry, definition, and poise through the poses in the finals appeared to clinch him his second professional victory. His win qualifies Brandão for the 2022 Mr. Olympia, but he previously earned his qualification from his victory in Romania.
Second Place — Vitor Hugo Boff
This Brazilian competitor surprised the field and the audience with the package he brought to the stage. He looked ripped in each pose during comparisons in prejudging and the finals. However, during final comparisons, Brandão was in the poses sooner and appeared more relaxed between the judges' calls. Those small factors may have been the deciding factor.
Victor Hugo Boff did not leave empty-handed, however. He earned eight points on the Olympia Qualification System, which could help him earn a trip to compete in Las Vegas on Dec. 16-18, 2022 if he doesn't win a pro show before then.
[Related: Bodybuilder Nick Walker Incline Presses 200-Pound Dumbbells For Six Reps]
Third Place — Thiago Lens Adao
Adao didn't have the size to match the top two finishers, but he had a great upper body and didn't let the bright lights of an Arnold stage intimidate him. The judges ranked him solidly in third on the scorecards — a great accomplishment. There is no word on when he will compete again, but it's unlikely he'll sneak under the radar in his next pro show after this performance.
Honorable Mentions
Sibusiso Kotelo was added to the lineup before the weekend but was not on stage for most of the prejudging due to miscommunication about the schedule. He was allowed to take the stage in the finals, but he was disqualified on the scorecards. The next men's open contest on the 2022 IFFB Pro schedule is the Indy Pro, scheduled for Saturday, May 14, 2022, in Indianapolis, IN.
Featured Image: @arnoldsouthamerica on Instagram