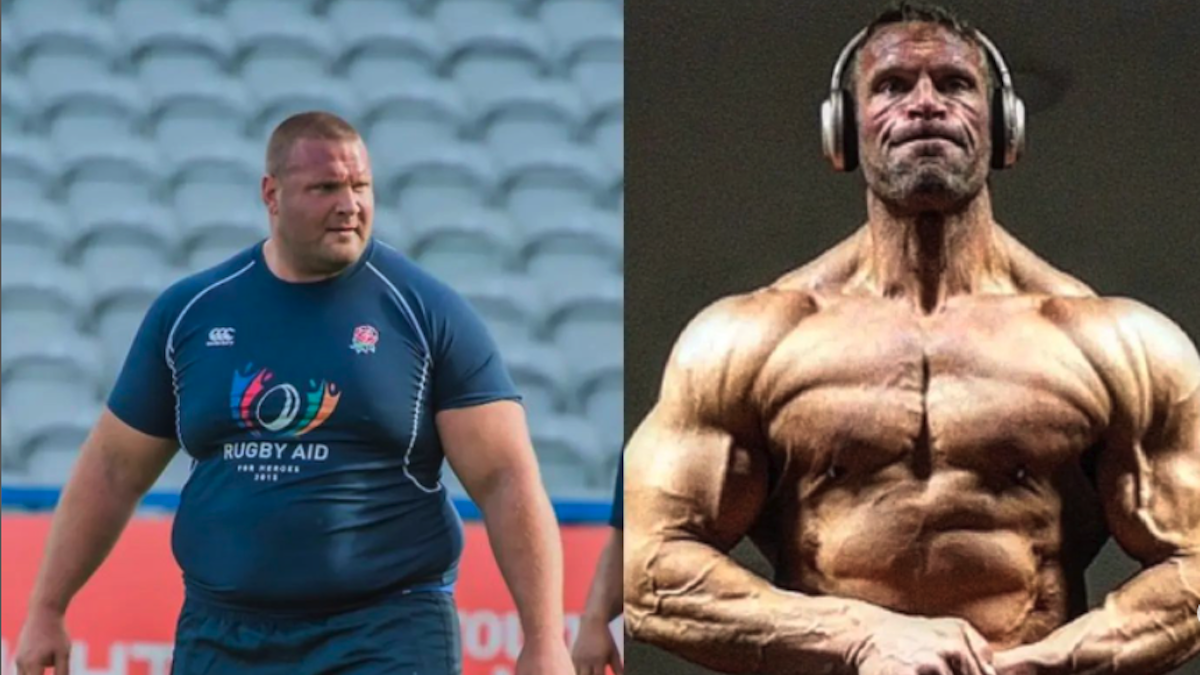 On May 8, 2022, former strongman Terry Hollands will make his return to a competitive bodybuilding stage to compete at Fit X The Insight Supps contest in Leeds, England. The two-time World's Strongest Man (WSM) bronze medalist has shed a significant amount of weight since retiring from professional strongman following the 2021 WSM contest. His competition prep has brought his body weight down to a lean 300 pounds, according to a May 3, 2022, post on his Instagram page.
I truly believe we become the person we are capable of by going through tough stuff and coming out the other side.
Hollands' physique has yo-yo'd over his career as a professional strength athlete, ballooning as high as 203 kilograms (447.5 pounds). Check out a side-by-side of Hollands one week into his contest prep versus five days out from the Fit X bodybuilding show via the photos from his Instagram page below:
[Related: 25 Years of Transformation — The Physique of Dwayne "The Rock" Johnson]
Hollands' current physique during peak weak for his return to bodybuilding is the leanest he's ever been, according to an Instagram post he shared on April 26, 2022. At the time of this article's publication, Hollands is just over a month away from his 43rd birthday and appears to have found renewed life sculpting his abs rather than attempting to pull 12-ton buses.
Hollands decided to take his followers on his physique transformation journey two weeks out from the Fit X bodybuilding contest by vlogging his prep on his YouTube channel. You can see his first episode titled "Journey Back to Stage" via the video below. His diet consisted of 335 grams of protein, 200 grams of carbohydrates, and 90 grams of fat — a total of 2,950 calories, which is relatively low for Hollands' six-foot, six-inch frame.
At about the two-minute mark, Hollands' performs poses front-facing and with his back to the camera and profile shots from each side. Despite him admitting that he appears relatively flat as he posed first thing in the morning while fasted, he is pleased with how he's leaning out, particularly with the conditioning of his legs. Check it out:
[Related: One Month Into 2022 and Mark Wahlberg is Undergoing Another Physique Transformation]
Hollands said his diet with the contest fast approaching is "quite boring." By 9 a.m., he consumes two meals — whey and oats for breakfast and chicken and broccoli with rice for meal two. Meal prepping has been fundamental to his ability to stay on track with his diet, as the convenience of pre-prepped meals offers fewer hurdles when weighing his food. He's been eating the same food for two and a half months while cutting weight.
It's easier for me to just eat the same things every day. I'm not eating for enjoyment.
The consistency with which he eats his food every day, including specific foods, also makes it easier for him to adjust his macros as needed. An example of that second meal mentioned above includes 180 grams of grilled chicken breast, 200 grams of rice, and a handful of broccoli stalks (approximately 50 grams). Hollands' does not fear adding more vegetables to his meals for volume if he feels famished, citing that their caloric values are low and their nutritiousness is high.
[Related: Supervillain Muscle — Actor Flula Borg Is Jacked and Wants You to Know It]
Before Hollands' training sessions, he takes a pre-workout, which he feels helps him achieve more significant pumps without consuming many carbohydrates. He will get a quick glucose hit before entering the gym via a couple of rice cakes. While training, he sips a combo of EAAs and L-Carnitine as well.
Hollands performs incline dumbbell bench presses, cable flyes, dumbbell flyes, machine incline presses with three 45-pound weight plates on each sleeve, and the pec deck for chest day. We'll see how his posing routine fares in front of the judges when he steps on stage in Leeds on May 8.
Featured image: @terryhollandswsm on Instagram