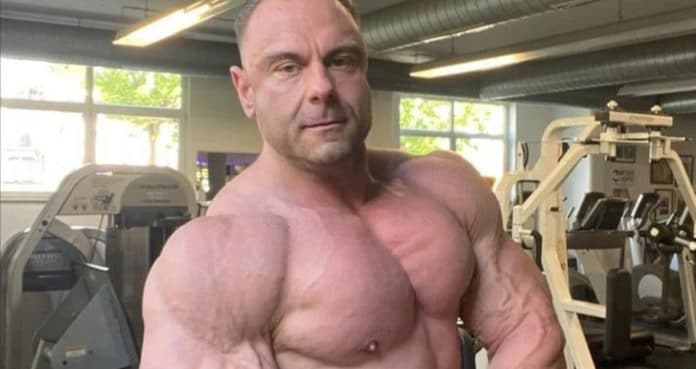 Pro bodybuilder Paul Poloczek dead at 37
Tragic news hits the bodybuilding world this weekend with reports that bodybuilder Paul Poloczek has passed away. He was only 37 years old. At the time of this writing, there has been no cause of death announced. Poloczek was an IFBB pro bodybuilder.
News of Paul Poloczek's passing comes via his partner Katherin DeNev, who posted the news on her Instagram account on May 28, 2022. According to reports, he was last seen at the NPC Worldwide Championships in Baden-Württemberg.
Below is a translation of the post:
"Bodybuilding was your life. You are not forgotten, you live on in our hearts. We will love you forever."
Remembering Paul Poloczek
Paul Poloczek is a Polish bodybuilder who immigrated to Germany when he was four years old. Paul's initial passion in athleticism and sports came in the form of soccer. This eventually lead him to discover his love of weightlifting – becoming interested in bodybuilding around the age of 16.
In 2002, Poloczek became a member of the famous Powerhouse Gym franchise – in Oehringen, Germany. He would later become the owner of that very gym. Poloczek later won his first Junior Championship bodybuilding competition at the age of 17.
Later in 2012, Poloczek placed second at the German Championships in the Super-Heavyweight division. He followed this high placing with yet another runner up title at the Arnold Classic Amateur Europe and also the Arnold Amateur Championships in Ohio in 2014.
Paul Poloczek finally earned his pro card in 2017, wher ehe placed first in the Arnold Classic Amateur competition in Ohio. He would later compete in the New York Pro in 2018 – though he did not place.
This lead to Poloczek taking a short hiatus from competing. He expected his comeback to be in 2021 – though ultimately the pandemic prevented him from competing. He would later finally compete again later that year in the Europa Pro. He placed 16th.
Generation Iron would like to send condolences to friends and family of Paul Poloczek during this hard time. This article will be updated as more information becomes available. Stay tuned to the Generation Iron Fitness Network for news and updates on all things bodybuilding, fitness, and strength sports.