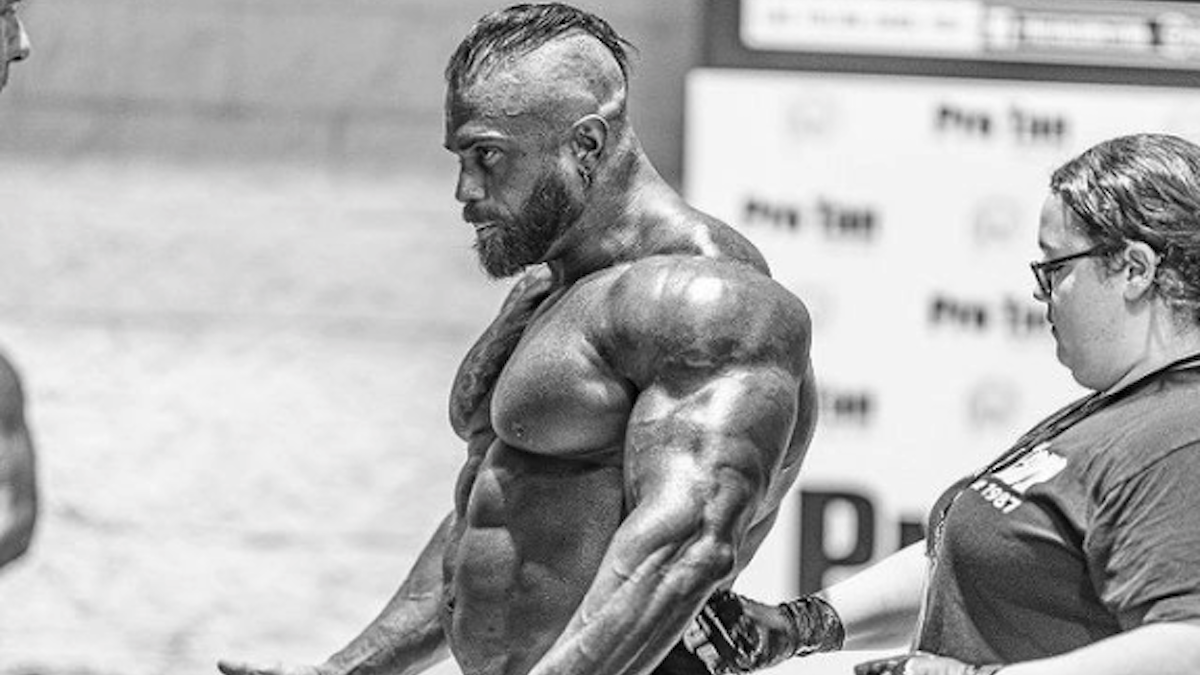 The 2022 Mr. Big Evolution Pro is scheduled for Saturday, July 9, 2022 in Estoril, Portugal. Ten of the IFBB Pro League's 11 divisions will hold contests to determine who qualifies for the 2022 Olympia, scheduled for Dec. 16-18, 2022 in Las Vegas, NV. The only division that is not represented is the Wheelchair division.
The headline division at this show is the Men's Open. Thirteen bodybuilders will take the stage. The roster for that contest is below in alphabetical order:
2022 Mr. Big Evolution Bodybuilding Roster | Men's Open
Morgan Aste
Tim Budesheim
Roberto Buonomo
Peter Klancir
Sergio Lima
Pablo Llopis Munoz
Andrea Muzi
Cem Nazim
Andrea Presti — Reigning Champion
Fabio Romagnolo
Sarham Sarhan
Vladyslav Sukhoruchko
Antonio Valero Tuinenburg
[Related: Dana Linn Bailey and Regan Grimes Build Their Lats at the Mecca of Bodybuilding]
Favorites to Watch
Below are three athletes who could make waves in Portugal when they step on stage.
Andrea Presti
Presti is the defending champion at this contest. That victory in 2021 was his first pro win and the only pro victory thus far in his pro career. He's competed three times in 2022 — scoring a pair of second-place finishes in the New York Pro and Orlando Pro, and a seventh-place rank at the California State Pro.
The Orlando contest was less than one week before the show in Portugal. If he can maintain his conditioning while traveling overseas, he will be in position to go back-to-back.
Tim Budesheim
Budesheim was the runner-up to Presti in 2021. That contest was when many fans became aware of Budeshiem for the first time. This will be his first competition in 2022, so he may come back bigger and better.
The matchup between Budesheim and Presti will be an interesting one. Budesheim's proportions are good, and his overall symmetry makes his physique stand out. If the German can get rid of the water beneath his skin to reveal maximum definition, he stands a good chance of winning this show.
Andrea Muzi
Muzi placed fourth at the California Pro in May 2022. The fifth-year pro from Italy is still hunting for his first pro win and an Olympia debut.
Muzi appeared bigger than years past when he competed in San Diego, CA. He will need to be shredded to have a chance to win this show. He's certainly capable of that, and the other contenders shouldn't sleep on him.
[Related: Watch Bodybuilder Brett Wilkin Conquer a Heavy Back Training Session]
Other Divisions
The athlete rosters for the other nine divisions are below. In total, over 140 IFBB Pros will represent 35 different countries, making this a significant international contest. All winners move on to the Olympia while top five finishers will earn Tier 4 points towards the Olympia Qualification System. The top three finishers in that system at the end of the season will also move on to the Olympia.
212
Steve Benthin
Andrea Bolzoni
Marco Cardona
Raphael Chevailler
Pasquale D'Angelo
Hameed Juna
Michael Schneider
Daniel Sticco
Classic Physique
Oman Naser Alden
Keivan Alichi
Aldin Alijagic
Julio Cesar Almiento
Nestor Martinez Carbonell
Julian Castano
Pedro Miguel da Silva Ferreira
Ethan Gohari
Issa Al Hasani
Paulo Henrique
Philipp Jendreiek
Mohammad Mahmoudi
Luis Garcia Martinez
Fabian Mayr
Giovanni Randazzo
Marco Ruz
Norbert Zakar-Balogh
Men's Physique
Mahmut Alan
Welington Rodrigo de Souza Barbosa
Anthony Bessala
Ali Bilal
Daniele D'Onofrio
Furkan Er
Febo Gambacorta
Ali Jaffar
Burak King
Damian Kujtkowski
Benedikt Lukas
Ruben Marques
Filipe Martins
Elton Mota
Paulo Nunes
Manoj Patil
Abisai Pietersz
Jessy Pigury
Sidy Pouye
Kenny Privet
Nelson Rodrigues
Manuel Santalucia
Tristan Van der Bijl
Leonardo Vecchiato
Dawid Wachelka
Women's Bodybuilding
Alcione Barreto
Claudia Mocciaro
Branka Njegovec
Yesenia Garcia Speck
Women's Physique
Birgit Andersch
Ilaria Armeni
Lena Frenkel
Amandine Kolly
Barbara Menage
Manuella Monteiro
Sanna Nupponen
Alida Opre
Paloma Parra
Elena Aviles Romero
Caroline Alves dos Santos
Marina Schermer
Fitness
Corrine Elizabeth Bean
Alix Small
Figure
Alessia Amore
Ayra Bahar
Oyku Basar
Pamela Colombo
Rahel Cucchia
Glynis Van Drunen
Manon Dutilly
Ashley Felperin
Nadine Claudia Huber
Sara Kinnvik
Gabriela Linhartova
Adela Ondreyovicova
Carmen Penalvar
Hannah Prause
Lena Ramsteiner
Paula Ranta
Sophia Sammee
Roberta Visintainer
Bikini
Giuss Abbate
Anastasia Gonzalez Andreu
Jasmi Aprile
Cheila Baronet
Solidea Bellia
Debora Boff
Kristina Brunauer
Claudia Clemente
Noemi Cosentino
Martyna Derlat
Lucy Edwards
Ivanna Escandar
Liana Giannamore
Stine Hansen
Cassie Hunter
Noemi Lavacca
Lucrezia Marchi
Chloe Margraitner
Eszter Oczella
Rosario Asala Orihuela
Camilla Porfito
Lisa Reith
Jule Schwabe
Anna Setlak
Rukiye Solak
Eleonora Sundas
Giuditta Taccani
Wellness
Sandra Colorado Acal
Lauren Barton
Jessica Basso
Leonida Ciobu
Daniela Deiana
Tracy Eden
Maria Gongora
Houda Hmini
Anzhelika Ispodnikova
Carina Marques
Lisa Meiswinkel
Catia Moreira
Debora Paula de Oliveira
Pernille Mindahl Ramussen
Synara Santana
Catarina de Sousa
Nerilda Garcia Strey
Carly Thornton
Simara Walter
Featured image: @andrea.presti_ifbbpro on Instagram