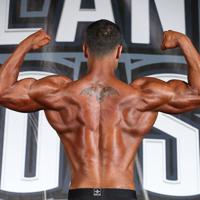 Maggie Valley police officer Logan Wood, 33, won a bodybuilding competition in June in Wilmington.
It was Wood's first body building competition, and he won best in his weight class (191 pounds), overall classic physique and true novice.
"I trusted my coach, followed his plan and the process going into my first competition," Wood said. "I think it went perfect for the both of us."
Wood's coach, Tom DeFloria, is a three-time professional international federal bodybuilder. DeFlorida has been coaching for 10 years and took on Wood as a student about a year ago.
Wood is a Waynesville native and a graduate of Enka High School. After high school, he worked as an electrician but later became a police officer.
Now, he serves as a member on the SWAT and K-9 units for the Maggie Valley Police Department.
Wood and his wife, Oxana, have four children, but that didn't stop her from joining him at the competition to cheer him on.
"My wife is looking into body building as well. She wants to do her first competition," said Wood.
Bodybuilding is a sport that isn't for the weak. Wood said it takes time and preparation.
A competitor's body has to be the healthiest during training and conditioning for the 12 hours before competition. Competitor's bodies face a high level of dehydration and carb-loading before reaching the stage.
"I weighed in at 191," Wood said. "It's been a couple weeks and I've already gained 35 pounds back."
Throughout the training months, Wood has to maintain a strict diet, which he described as a constant state of starving. That includes drinking three gallons of water and doing one-and-a-half hours of cardio before he begins his lift session.
Working on the SWAT team and K-9 unit, Wood needs to be in shape for the job.
Even before working with the police department, he's always been interested in lifting and has liked working out. His favorite lifts are incline bench press and deadlift.
Working full-time at the police department, a father of four and, now, a competitive bodybuilder, Wood's schedule is very strict. He works all-night shifts and trains and enjoys family time during the day.
Wood has lifted everyday since joining the SWAT team, saying that it feels weird when he misses a day. Even going back to eating regular has been hard on him.
"It was very rewarding. I put in a lot of hard work for that single competition and put my body through a lot. I probably won't do another for another year, and I might do the same one again in Wilmington," said Wood. "It taught me a lot about perseverance and mental toughness. This first competition and year were meant to be trial and error."