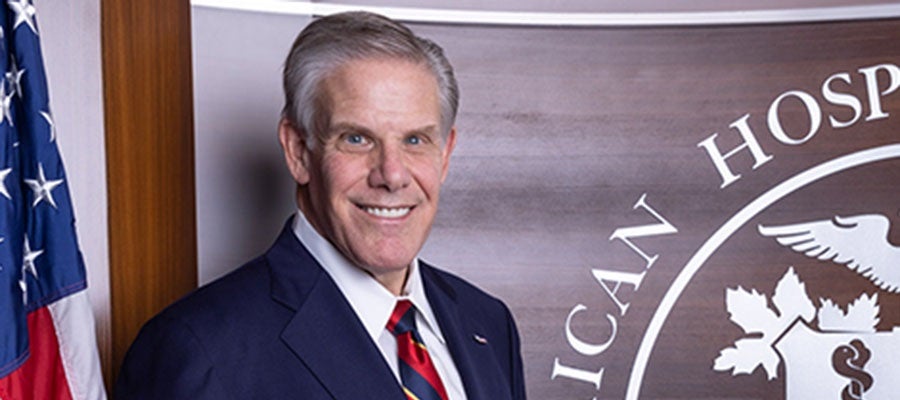 One important learning from the two-and-a-half-year COVID-19 pandemic is that the public health emergency (PHE) waivers made an enormous difference for hospitals and health systems. While the waivers were meant to quickly pivot to address the challenges hospitals and health systems faced during the PHE, some of them are worth keeping permanently.
In a July 29 letter to Department of Health and Human Services Secretary Xavier Becerra, the AHA pressed the case for extending the PHE past its current expiration date in October. That's because the regulatory flexibility afforded to caregivers — the expanded ability to deal with COVID-19 surges and design approaches that best meet the needs of their communities — has demonstrated its value time and again.
We deeply appreciate the support that HHS has provided during the pandemic. Among other benefits, waivers have allowed for hospital bed flexibilities, expanded access to telehealth services, supported the establishment of hospital at home programs, enhanced the ability of health care professionals to practice across state lines, and offered providers relief from administrative burdens. The PHE declaration has also made possible several critical coverage and hospital payment policies.
You have spoken out about this, and we're making sure Washington, D.C., hears you loud and clear. We shared the results of our recent survey of some of our hospital and health system members to ascertain whether the COVID-19 waivers continued to be essential.
93% said their hospital would be negatively impacted if the waivers were rolled back, with 60% saying it would be significant;
89% told us they still depend on the flexibilities provided by the PHE waivers to deliver needed care;
78% said the waivers provide important support in managing ongoing staffing issues and shortages;
72% indicated that the waivers were extremely important to their hospital or health system; and
72% said that the withdrawal of the waivers would significantly affect their patients' access to health coverage.
It's clear that now is not the time to eliminate these vital flexibilities. The B.A.5 variant has brought a rise in hospitalizations and deaths and many providers are seeing sicker patients. Hospitals continue to grapple with a host of issues including supply chain disruptions, rising labor costs, a sharp uptick in the demand for mental and behavioral health services, and most importantly, significant shortages of doctors, nurses, pharmacists, therapists and other health care personnel.
The waivers have played a vital role in managing this prolonged and unpredictable pandemic. But their impact goes deeper. Hospitals have often utilized these temporary policies as a catalyst for establishing new, innovative and safe ways for delivering patient-centered care … helping chart the way to a bright future.
For these reasons, we will continue to fight for some of these valuable waivers to become permanent Medicare policy, and others to stay in place long enough to ensure a smooth shift to a post-public health emergency world.