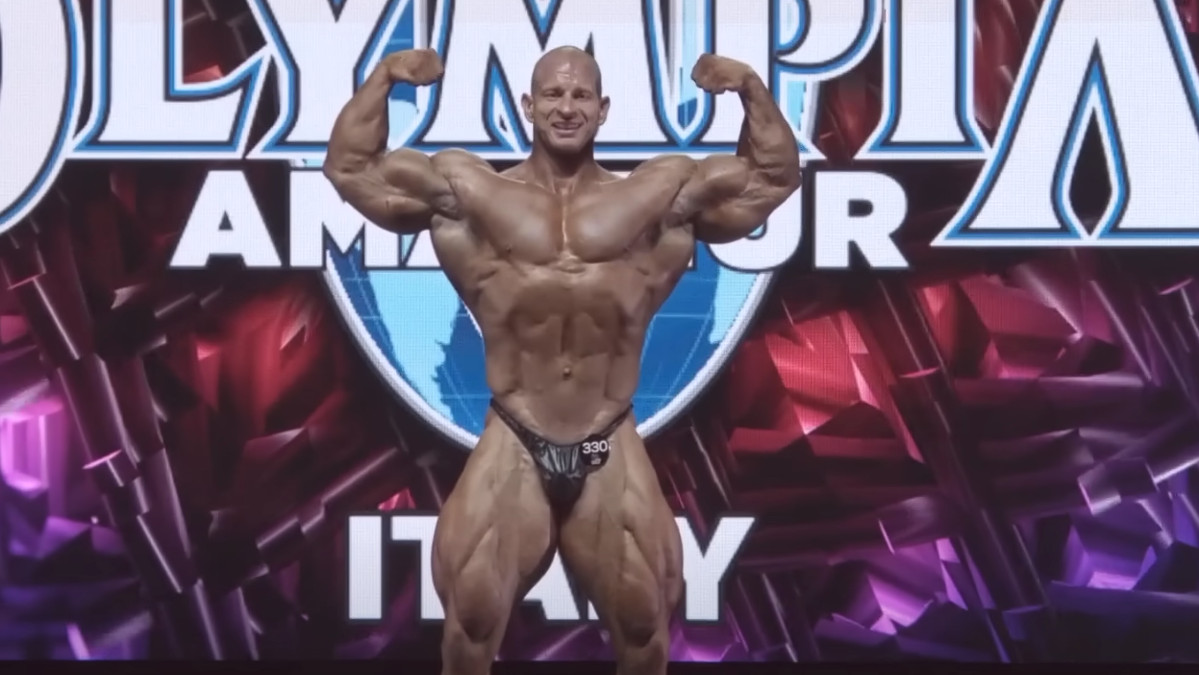 The 2022 Prague Pro bodybuilding event is scheduled to take place on Saturday, Oct. 29, 2022, in Prague, Czech Republic, and it's one of the final shows before the Olympia.
There will be six IFBB Pro League contests held at this event, but none have more hype around them than the Men's Open bodybuilding showdown. And most — if not all — of that has to do with the fact that this is the IFBB Pro League debut of Michal Križo Križánek, a competitor who former Mr. Olympia winners like Jay Cutler and Samir Bannout believe can make some real noise at this year's Mr. O if he qualifies.
Here's the full lineup for Men's Open as of Oct. 28:
2022 Prague Pro Men's Open Bodybuilding Roster
Kokeny Bela
Pavel Beran
Lewis Breed
Adolf Burghardt
Pavel Cervinka
Chams-Eddine El-Bey
Enrico Hoffmann
Vladimir Iacovlev
Michal Križo Križánek
Ahmad Mahmoud
Milan Sadek
Marian Sramko
Jan Turek
Favorites to Watch
If you're looking for a cheat sheet of competitors to keep an eye on, here are three with big-time potential to walk away with a win.
Michal Križo Križánek
After being recognized as the number one bodybuilder for the IFBB Elite Pro for several years, Križánek will make his pro debut less than one month after earning his new pro card. If he wins this contest, he will earn a trip to the 2022 Mr. Olympia, scheduled to take place Dec. 16-18, 2022 in Las Vegas, NV.
Since Krizanek is starting his road to the Olympia so late in the season, he wouldn't be able to earn enough points to qualify through the Olympia Qualification System. In other words, he must win one of the pro shows between the Prague Pro and the end of the season on November 20 to earn a spot at the O.
Milan Sadek
Milan Sadek is one of the veterans of this lineup, having competed as a pro since 2015. He appeared on the Olympia stage as a 212 competitor in 2017, when he placed sixth. And while he hasn't won a pro show as an Open competitor, this contest could be an opportunity for him to change that. He will just have to counter Križánek's size with razor-sharp definition and conditioning.
Marian Sramko
This is also Marian Sramko's pro debut, and he could easily be the dark horse of the bunch. He won the 2021 NPC Worldwide British champion, thanks to his jaw-dropping legs. And his upper body isn't too bad, either.
Sramko likes to use classic poses in his individual routine, which could impress the judges and push him up the scorecard. The only question for him will be if he can withstand the intensity and pressure that comes with being on a pro stage with an Olympia qualification on the line.
Olympia Qualification System
The second- through fifth-place finishers in all six divisions will earn Tier 4 points in the Olympia Qualification System, and those points can be valuable. The top three in the standings as of November 20 will also move on to the Olympia. The points per position are below.
2nd – 4 points
3rd – 3 points
4th – 2 points
5th – 1 point
[Related: Kings, Chemists, and Oaks — The 10 Best Bodybuilding Nicknames of All Time]
Other Divisions
The lineups for the other five contests (212, Classic Physique, Men's Physique, Bikini, and Wellness) are below. In total, more than 70 pros across all six divisions will represent 20 countries. No Americans are in the lineup for this contest.
212 Bodybuilding
Abdulrahman Alkhashti
Steve Benthin
Jamal Changezi
Dawid Cnota
Pasquale D'Angelo
Peter Molnar
Daniel Sticco
Tomas Tabaciar
Jorge Zamorano
Mihoubi Zohir
Classic Physique
George Acheampong
Thomas Baier
Luca Corrado
Petar Duper
Djallel Feidi
Sebastian Guncik
Patrik Herczik
Kelvin Hinde
Jakub Kolinek
Fatih Terzioglu
Andrej Varga
Men's Physique
Hashem Alfotewi
Omer Bahmed
Tamas Csernoch
Dimitri Desheraud
Furkan Er
Miroslav Juricek
Daniel Leone
Mohamed Magdy
Davide Mazzolari
Andrea Mosti
Abisai Pietersz
Miroslav Priban
Manuel Santalucia
Filip Steflovic
Oskar Tchorzewski
Daniel Tulok
Rafal Zabawa
Bikini
Anastazja Biedka
Andreea Cazaceanu
Martyna Derlat
Valerya Fedorenko
Klaudia Ignasiak
Tatiana Lanovenko
Ottavia Mazza
Zsofia Reka Molnar
Eszter Oczella
Mie Kirstine Rommelhoff
Henrieta Skupekova
Aneta Szoltysek
Allison Testu
Wellness
Aysegul Besli
Mari Carvalho
Leonida Ciobu
Aline Machado Galvao Freitas
Lidia Melero
Anna Mroczkovska
Lexy Oliver
Maria Paulette
Figen Sahin
Clara Sella
Lara Tasharofi
Danai Theodoropoulou
Sabrina Diaz Urdaneta
Michelle Vogelsgesang
Featured Image: KRIZO on YouTube