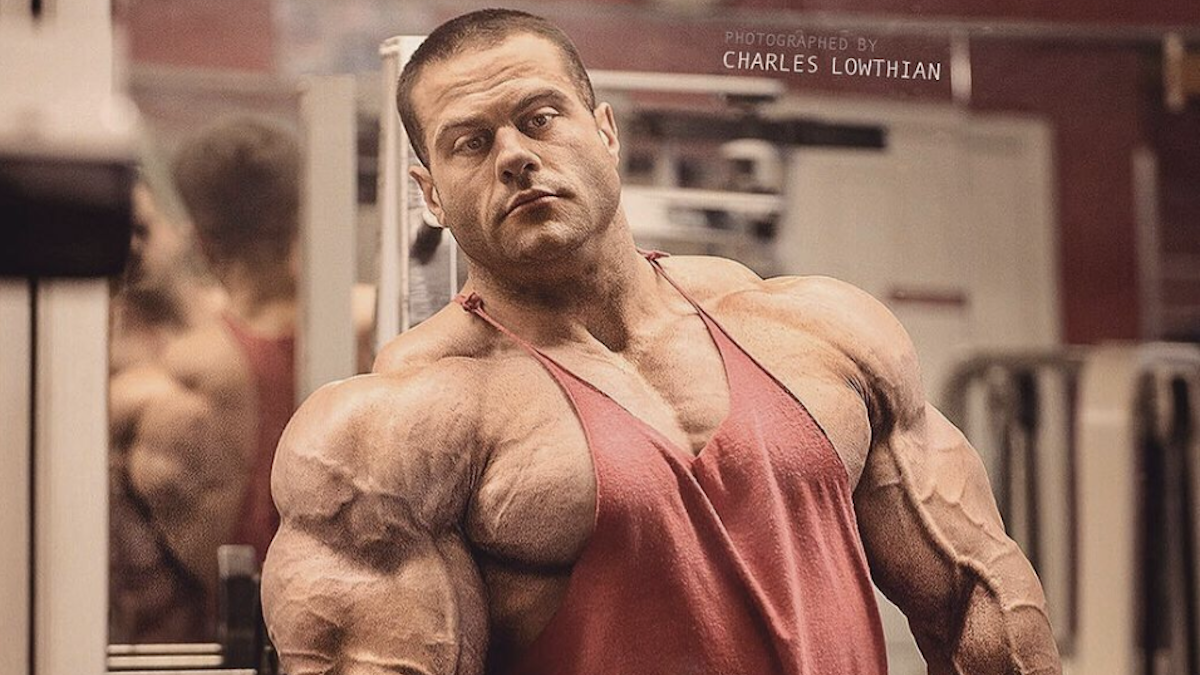 American bodybuilder Evan Centopani made a name for himself in the sport with impressive proportions, a balanced physique, and supplement deals with brands such as Animal Pak. That brand grew its popularity by using pictures of Centopani and Frank McGrath as their poster children. On May 20, 2021, Centopani announced his retirement to the world, stating:
I don't feel like I have anything left to prove.
Recently, fitness YouTuber, powerlifter, and amateur bodybuilder Jujimufu met with Centopani to discuss how Centopani's workout routine has evolved since his retirement. Their session together was filmed and published on Jujimufu's Youtube channel on Oct. 24th, 2022. Check it out below:
[Related: Nick Walker and Mike O'Hearn on the Importance of Mindset During Competition Prep]
"It is weird that I have a photo of myself on the wall?" Centopani quipped as he gave Jujimufu a tour of his basement gym that he has pieced together for several years.
Centopani hasn't officially retired but has stepped away from the stage to focus on his home life. It's been over six years since he last competed, and currently, the bodybuilder doesn't have formal plans to step back on stage.
[Related: Michal "Krizo" Krizanek Wins 2022 Prague Pro Bodybuilding Show]
Jujimufu felt an instant sense of motivation in Centopani's home gym, which was primarily inspired by the gyms of yesteryear in the 70s and 80s.
It's obviously a very small space, but it has everything I need.
Centopani and his father built the gym by hand, welding a lot of the equipment as a bonding experience during the COVID-19 lockdown in early 2020. Admiring the vast amount of equipment Centopani squeezed into his basement gym, Jujimufu noted its versatility:
You can build a bodybuilder physique with mostly free weights, but you cannot build bodybuilder legs without machines.
Centopani agrees, as his home gym supplies ample machines for leg training. But on this day, the session was a quick 45-minute arm workout. Check it out below:
Centopani and Jujimufu's Arm Workout
Below are the exercises in the same order performed by Centopani and Jujimufu during their workout:
Below is a breakdown of each movement performed by Centopani and Jujimufu:
Bodyweight Dips
Bodyweight dips were up first to warm up the triceps. Generally, Centopani goes to failure or, based on feel. He told Jujimufu that he often goes into the upper 40s for his rep range.
It's not wrong trying to figure out the best way to do something, [but] doing something is always better than doing nothing.
Many bodybuilders neglect bodyweight moves despite being foundational for some of history's elite athletes like Arnold Schwarzenegger. Schwarzenegger started back workouts with multiple sets of pull-ups.
[Related: Dirty Bulking Explained — Drawbacks, Benefits, and What You Should Know]
Giant Set: Barbell Curls, Dumbbell Curls, and Plate Curls
Centopani feels lucky regarding his shoulder health. This movement can be challenging for larger bodybuilders as shoulder mobility may be limiting. Dips were one of the first exercises Centopani ever did.
I started doing them when I was 15 — it's been 25 years of dips. It's not always what you do but how you do it.
Moving onto biceps, Centopani opted for a giant set involving barbell curls, dumbbell curls, and plate curls back to back with no rest for three sets.
Bodyweight & Barbell Skullcrushers
Jujimufu and Centopani performed another bodyweight movement utilizing a set of handmade cable straps to perform standing bodyweight triceps extensions on a barbell in the squat rack.
The key is the negative.
Slowing down the negative portion of the rep (i.e., the eccentric) can offer a robust anabolic response to help maximize hypertrophy.
The first weighted movement for triceps consisted of the classic barbell skull crusher. Centopani warmed up with 50 reps with 95 pounds on the barbell before upping the weight to 180 pounds for his working sets.
This is the movement that really made my triceps explode.
Skull crushers and barbell overhead triceps extensions are excellent for adding mass to the arms. Centopani kept the workout basic and efficient. He still enjoys training and sports an impressive physique, including 22-inch arms.
Centopani has eyed new ventures since stepping away from competitive bodybuilding. He coaches clients in addition to his day job and is still signed with Universal Nutrition/Animal Nutrition. Time will tell if he will get the itch to return to the stage again, but if he does, he will likely still be able to present an impressive package to the judges.
Featured Image: @evancentopani on Instagram | Photo by Charles Lowthian