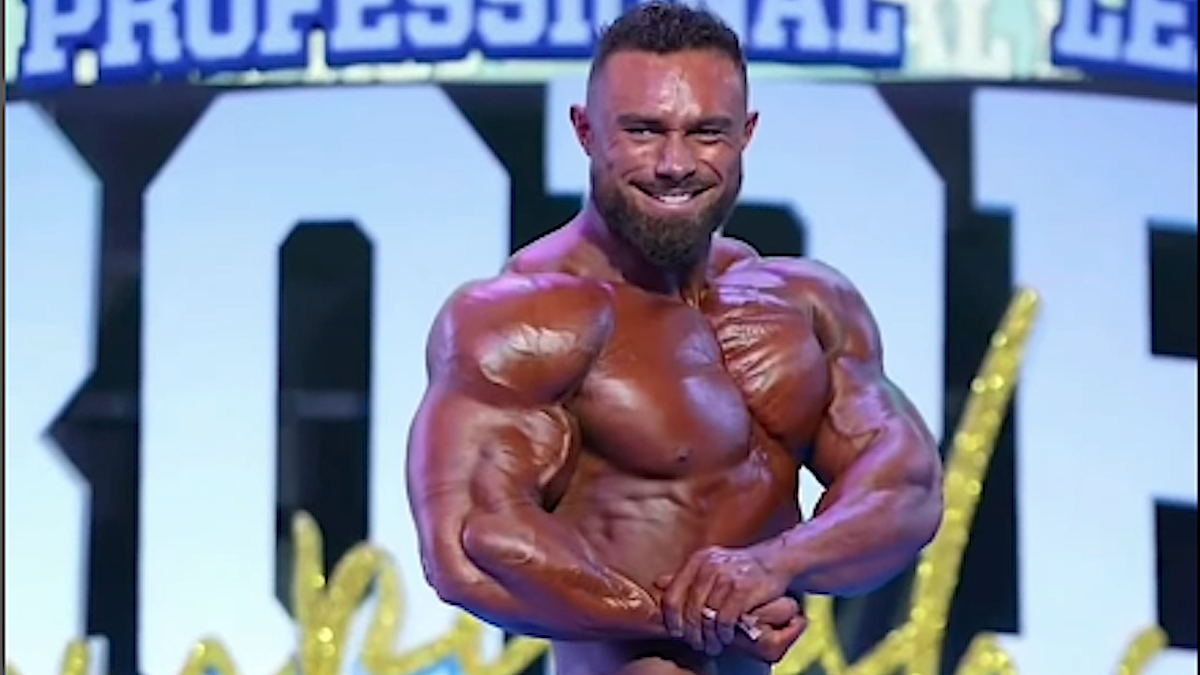 On Sunday, Nov. 6, 2022, Alicante, Spain, hosted the IFBB Pro League's Europa Pro bodybuilding show, which featured 10 pro divisions with Olympia qualifications on the line. One hundred and forty athletes across divisions walked onstage to face the judges and crowd in attendance. The Men's Open division was among those, and Theo Leguerrier scored his first career pro win at the end of the evening. The top 10 for that show are listed below:
2022 Europa Pro — Men's Open
Theo Leguerrier
Kokeny Bela
Vlad Alfred Chiriac
Enrico Hoffman
Dani Kaganovich
Artem Pakhniuk
Lewis Breed
Pablo Llopis Munoz
Gianluca Di Lorenzo
Rob Cannon
Below is a breakdown of the podium finisher's performances:
[Related: Train Shoulders Like Four-Time Men's Physique Olympia Champion Jeremy Buendia]
Winner — Theo Leguerrier
This is the French competitor's first career victory as a pro, and it came in his fifth show of the season. He finished in second place twice in Toronto and Puerto Rico earlier this season. He will make his Olympia debut when he steps onstage in Las Vegas, NV, on the weekend of Dec. 16-18, 2022.
Second Place — Kokeny Bela
This was Bela's first appearance onstage in three years. He was on the Olympia stage as a 212 competitor in 2019, where he placed sixth. This was his first appearance as an Open competitor, and he made a big statement by placing in the top two. He would have to win the next show in Romania on Nov. 13, 2022, to qualify for the Olympia. If not, he could certainly make a lot of noise in 2023.
Third Place — Vlad Alfred Chiriac
Chiriac was the runner-up to James Hollingshead at the Tsunami Cup Pro in October 2022, which was his pro debut. He scored another top-three finish in his second contest here. He wanted the win, but he's getting more attention from fans with each appearance. He could be another rising star to watch out for next season.
Other Divisions and OQS Points
The top 10 for the other nine divisions are listed below. The winners will all move on to the Olympia, while the second through fifth-place finishers earn Tier 2 Points in the Olympia Qualification System, which are much higher than points for most shows.
Second – eight points
Third – seven points
Fourth – six points
Fifth – five points
The top three finishers in that system as of Nov. 20, 2022, will also move on to the Olympia.
212 Bodybuilding
Radoslav Angelov
Dobromir Delev
Daniel Sticco
Vladimir Iacovlev
Jorge Zamorano
Dominik Wayuat
Steve Benthin
Babacar Niang
Muneer Al Jassas
Jean Carlos Jesus Guerrero Alfonso
Classic Physique
Woilid Baatout
Jesus Rodriguez Sendra
Mikhail Timoshin
Tautvydas Tumbrotas
Siem Goossens
Fabio Lopes
Alex Connors
Peter Dupar
Kelvin Hinde
Jaime Vergara
Men's Physique
Adeyemi Awoyemi
Manuel Santalucia
Burak King
Andrea Mosti
Mohammad Ali
Jean Desulme
Isaac Francis
Febo Gambacorba
Tunde Hassan
Daniel Leone
Women's Bodybuilding
Alcione Santos
Tiana Flex
Stephanie Flesher
Yesenia Garcia
Vanesa Lloria
Cristina Arellano Goy
Sonia Cabre Pasano
Claudia Mocciaro
Women's Physique
Raducu Raluca
Sophie Leo
Karina Goncalves
Jeanette Johansson
Caroline Alves Dos Santos
Laura Pintado
Birgit Andersch
Laura Pyszora
Larissa Araujo de Lima Coelho
Modesta Halby
Fitness
Michaela Pavleova
Nikolett Szabo
Martina Bianchini
Amy Hamilton
Corinne Elizabeth Bean
Figure
Paula Ranta
Gabriela Linhartova
Asrun Osp Vilmundardottir
Hannah Prause
Adela Ondrejovicova
Amanda Winston
Rejoice Godwin
Julia Heerenveen
Lauren Green
Lucie Favrelle
Bikini
Ivanna Escandar
Allison Testu
Angela Valenzuela
Jessica Feeney
Zsofia Rexa Molnar
Stine Hansen
Giuditta Taccani
Eszter Oczella
Irene Iravedra Cunarro
Mie Kirstine Rommelhoff
Wellness
Maria Paulette
Carina Marques
Aline Machado Galvao Freitas
Natasha Novak
Figen Sahin
Lilian Velez Marin
Jessica Eurenius Lopez
Lidia Melero
Dainora Dvarionaite
Houda Hmini
Featured Image: @theoleguerrier on Instagram