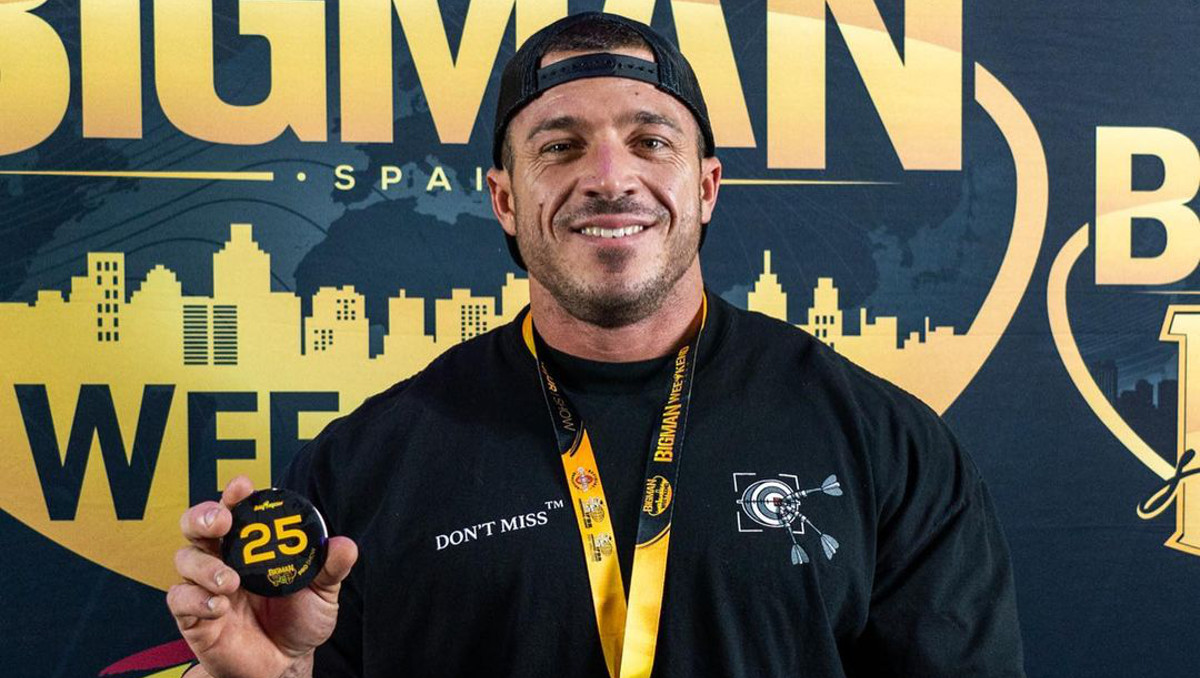 The qualifiers for the 2022 Olympia Weekend are now official, but some bodybuilders can jump on an early chance to take part in the 2023 contests by competing in the Bigman Weekend Pro. This is the first show of the 2022-2023 bodybuilding season, and it features contests in both the Men's Open and Bikini divisions. The show itself takes place on Sunday, Nov. 27, in Alicante, Spain.
[Related: What Does Classic Physique Competitor Terrence Ruffin Eat One Month Before the 2022 Olympia?]
There are 23 bodybuilders from 15 countries competing in Men's Open at the Bigman Weekend Pro this year, and the winner will earn the first qualifying spot for the 2023 Mr. Olympia. But since the qualification system for 2023 hasn't been announced yet, we don't know if the rest of the top five will earn points toward next year's O.
Here's the full roster:
Khaled Al-Kazim
Kökény Béla
James Bondi
Vlad Alfred Chiriac
Roman Fritz
Eiren Gauley
Kobi Ifrach
Dani Kaganovich
Sibusiso Kotelo
Theo Leguerrier
Sergio Lima
Gianluca Di Lorenzo
Justin Maki
Pablo Llopis Munoz
Andrea Muzi
Cem Nazim
Diogo Nunes
Cristian Pancorbo
Andrea Presti
Milan Sadek
Vincente Santamaria
Jan Turek
Favorites to Watch in Men's Open
As the opener for the 2022-2023 bodybuilding season, there's naturally a lot of intrigue over who can qualify for the Mr. Olympia first. Here are a few competitors to look out for:
Brett Wilkin
Brett Wilkin is still looking for his first professional victory. He finished second twice in his young career, the most recent being at the Romania Muscle Fest Pro on Nov. 13, 2022, where he was runner-up to Behrooz Tabani Abar Ghani of Iran.
[Related: Bodybuilder Shaun Clarida Will Return to the 212 Division at the 2022 Olympia]
Wilkin displayed a much-improved physique at that show compared to his performance at the 2022 Arnold Classic, where he placed sixth. He may not be able to go to this year's Mr. Olympia, but if he wins here, he can take a whole year to improve before the 2023 competition.
Theo Leguerrier
Theo Leguerrier qualified for this year's Olympia after securing his first pro victory at the 2022 Europa Pro in Alicante, where the Bigman is also held. Jumping into this show is a smart move because he would already be close to contest condition, and he can secure his second Olympia qualification early.
The matchup with Wilkin will be a fun one for the fans in attendance, and if they both show up in great shape, the judges will have a tough decision to make.
Andrea Presti
Andrea Presti has a pair of victories in his career, with both coming at the Mr. Big Evolution Pro in 2021 and 2022. Presti looks massive in the side poses and has a great upper back. He has to make sure he's ripped and not holding any water if he wants to win his third contest as a pro against Wilkin and Leguerrier.
The Bikini Division
The Bikini contest is the only other pro contest held at the Bigman Weekend Pro. The winner of this show will also qualify for the Olympia, but like in Men's Open, it's unclear if the rest of the top five will earn any points heading into the 2023 season.
[Related: Bikini Olympia Champion Jennifer Dorie Uses Infrared Saunas for Recovery]
Here's the full roster of Bikini competitors as of Nov. 25, 2022:
Claudia Clemente
Irene Iravedra Cuñarro
Aleksandra Duba
Amanda Wing Shan Lam
Tatiana Lanovenko
Giannina Lujan
Angela Valenzuela Martinez
Sarah Neuheisel
Rosario Orihuela
Giuditta Taccani
More Bodybuilding Content
Check out more bodybuilding content from BarBend below:
Featured Image: @brett_wilkin on Instagram